About
Dream Avatar
Current Status:
Busy/distracted.
Image on left by Uke.
Call

me

Bjorn/Senpai/Bjorn-senpai!/Beh?

.
Been a member of Gaia since 2004, formerly Beh Bear.
D.O.B.: 24 May @ 12:34 A.M.
Age: 20.
Location: New Joisey
Zodiac: Gemini, Dragon.
Heritage: Filipino/Pacific Islander -- born&raised in the US.
Occupation: College student, lazy bum, sporatic artist, subtle pervert.
Major: Undecided.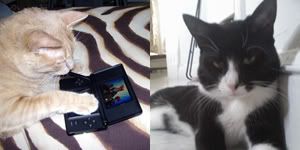 My lovely cats, Vegas and Boo.
Bother Bjorn
AIM: bokuwabear
:: Note ::
Bee usually isn't that talkative and is easily distracted, just to let you know, so I apologize if I appear to be distant and unresponsive. I'm not as talented as others when it comes to talking to more than 2 people at once. Don't feel discouraged to say "Hello", though!
Art
@ Deviant Art




@ Sheezy Art



Shops:
I color @ Ghosts of Taraja

Current Projects:

Project EXPcon mascots.


If you're intested, visit

Projectexp-dot-com

-- it's a new convention in Florida @ St. Augustine. I'll be there!

Affinities
Wit and humor, nerds, the B/C forums,
LOLcats, sleeping, McDonald's apple pies, Kirby, good grammar,
roleplaying, anime/manga, Gameboy DS, chocolate.
Aversions
Obnoxious stupidity, early mornings, deadlines,
when people use generic anime pictures for
their RP character's picture/or don't credit the artist for the pic,
and many other things.

Anime & Manga
Macross Frontier
World Destruction
Gundam 00
Gundam Wing
Potemayo
Rozen Maiden
Howl's Moving Castle
Lucky Star
Ouran High School Host Club
Code Geass
Code Geass R2
Tengen Toppa Gurren Lagann
Suzumiya Haruhi no Yuutsu
Death Note
Full Metal Panic
Paradise Kiss
NANA
Clannad TV
Last Exile
Spice and Wolf
Cowboy Bebop
Haiben Renmei
Fate/Stay Night
Chrno Crusade
Card Captor Sakura
Chobits
Fruit Basket
Kare Kano
Azumanga Daioh
& etc...
Friends
Viewing 12 of 21 friends
Journal
Bear with Me
This'll probably be a scrapbook of art, some photos, and a journal of sorts.
Multimedia
Signature
Bjornk is on B/C Hiatus! Please don't take my pets away. D: