The Bekahmeister's Quiggily Wonderousness!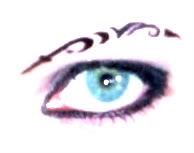 My name is Bekah. I am quite popularly known as Beeka-Choo. I'm used to being called alliterative cute names like snazzy snookums and lady locks. Feel free to make up your own.

I'm a quirky person. I draw my eyebrows. In many ways, I'm obsessive compulsive. I sleep in my closet. I have an intense fear of dark energy and demons. I dress like it's halloween all year. I'd like to think that I wear nothing but black for your safety, for any more color than what is already beaming from my personality may blind you! *wink*

I feel very strongly about my morals and beliefs. I am always trying to see things from the perspectives of others to understand their emotions and reasoning, as misinterpretations and ignorance of these are what compose hatred.

I love my friends. They make me hyper! I also enjoy meeting new people. I love to listen and to talk. Don't be shy. Say hello. I shall be welcoming <(^_^)>