Beauty In Damnation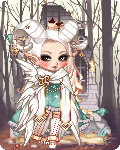 Details
Member Since

05/22/2007
Location

Eastern Washington

Gender

Female

Birthday

11/02/1991
---
Interests
Favorite Movies/Anime
Favorite TV Shows
Favorite Music/Bands
Hobbies/Interests
About
The name is Kim.
I'm 26 years young.
I love storms, the rain, the thunder, lightning, even wind.
Want to know anything else, just ask.
I'm like a time bomb
tickin in your head
Paranoia
clouding your judgement
and no matter what you do about it
I'm still in your head.

Signature
".... To live will be an awfully big adventure."