About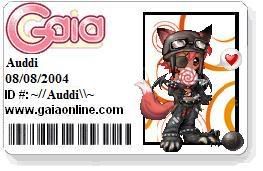 Name:
Auddi
Birthday:
February 26, 1991 (That makes me 17)
Sign:
Picies
Gaian Sign:

lame.
Mood:
( = 3=) <-- something like that.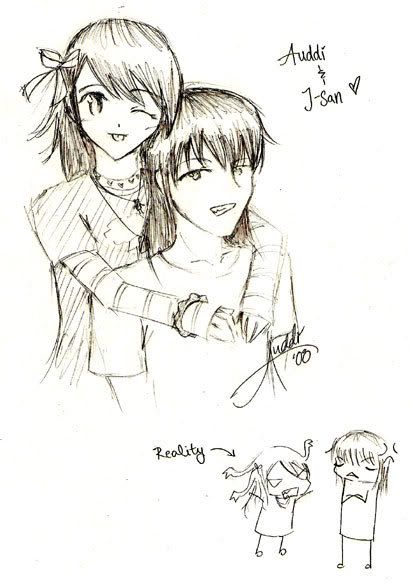 I'm absolutely in love with:
Hats
Good art
Cupcakes
Mr. Wilson
Electronica
Neil Gaiman
Cutesy Icons
Pete Hautman
Chewing on ice
Heavy necklaces
All neclaces, really
Snakebites (piercing)
Fancy 3" wedge shoes
Strawberry print items
Mr. Wilson's powerpoints
Going to San Fran with Fish
Really cute stuffed animals <3
Getting Avi art and Random PMs
Frozen drinks, especially margaritas
Funny jokes regarding MySpace or Isheep
Fish's amazing stories about me and my life
Touching (I'll have fun watching you interpret that)
Soft, clean, cool-looking hair (Kinda like Teufelchen and skin)
(not done with this)
HATE:
life.
heat
Country
Freshmen
Cauliflower
Mr. Skousen
Nazi parents
Mme. Anders
School addicts
Michigan (the girl)
Cooked blueberries
That fluffily pink color...
Hypocrites, myself included
Integration with partial fractions
People who plan stuff, but then don't back it
People who put temporary love over their friends
People who don't call back, without legitimate reasons -cough- Brittney -cough-
Friends
Viewing 12 of 53 friends
Journal
Auddi's blah blah land
yip
itsa journal
domokun
wheeeeeeeeeeeeeeeeeeeeeeeeeeeeeeeeeeeeeeeeeeeeeeeeeeeeeeeeee it's Auddi i like random stuff. let's have fun note: sometimes I have weird mood swings and I'll write really wierd stuff and everybody's gonna be like 'what the heck?' you know?
Multimedia