About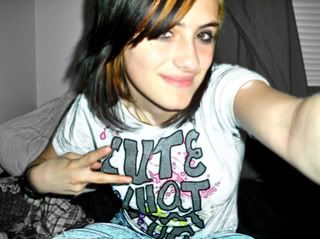 Hai!
I am.. Ashputz also known as Ashley or Ash whatever you prefer.
If you really want to know me you ought to know that I am a very very random person and I'm really talkative.
I happen to <3 Neon colors with black!!!
"All the vibrant colors I see and the shades that fill the grey..."
I Am Absolutely in love with Music, I love all different Genres! [Most]
Actually, Recently I've been very into.. Screamo and rock. Yesh!
I <3 Escape the fate
I <3 Slipknot
I <3 Black Veil Brides
I <3 Asking Alexadria
Yesshhhhhhhhh.
I am not a prepy person. i love to talk and be really loud!
Okay, I don't even know if I am Gothic and Emo but people tell me I am.
I dress in black ALOT but I also dress in some colors too.
But I dunno. I am totally fine with who i am.