About
My personality test: INPT, The Thinker


I am analytical and logical - and I'm on a quest to learn everything I can. I'm Smart and complex, I always love a new intellectual challenge. My biggest pet peeve is people who slow me down with trivial chit chat. I'm a quiet maverick, I tend to ignore rules and authority whenever I feel like it. In love, I am an easy person to fall for. But I'm not an easy person to stay in love with. Although I am quite flexible, I often come off as aloof or argumentative. At work, I am both a logical and creative thinker. I am great at solving problems. I would make an excellent mathematician, programmer, or professor. How I see myself: Creative, fair, and tough-minded
When other people don't get me, they see me as: arrogant, cold, and robotic.

My evil quiz: I'm so evil, its scary.



Some people conduct their evil business in secret, but not me. I'm proud of my dark and devious ways. I'm so evil that when other people find out about it, they don't even bother to fight back -- they cower in fear. That's convenient for me, because it's easy to convince all those scaredy-cats to do my bidding. Yay for minions! Now I can relax at home, clasping my hands together gleefully, while they do all my dirty work.
The color that describes me: Black


My color is black. I am mysterious and very beautiful. I have a unique personality and do everything with passion. Black can also be associated with withing sad, so I may have trouble with feeling lonely or confused. I'm not much of a people person. I work best by myself, although I have a few friends that are very close to me.
Good trait: I'm very talented and mysteriously sexy
Bad trait: I can be negative sometimes
Animal: Black swan
My Quote: To find the truth, look into their eyes. Did you see the truth? The lies?

The animal that describes me: The Tiger



I am a very mysterious person, whose inner self is much like the TIGER. I am very poised and graceful. But I have a very unpredictable nature. I am subject to my feelings of anger, happiness, distrust, and aggressiveness. People can sometimes read me, but I do not always sit around and let them. I am very independent, but enjoy the company of others like me.
Light Yagami


I can not stretch enough how much I LOVE HIM!! And to all you L fans out there! You can kiss my a**. Light won plain and simple. Light is awesome! He is the bomb and will always be the BEST ANIME GUY EVER!! He's hot, talented, and smart. He's got the DEATH NOTE! I know if he was real I wouldn't ******** with him, hell I'd massage his beautiful feet and be his SLAVE!!! I would WORSHIP HIM! Also, I am not like Misa in anyway!! So don't assume it or I'll go guro on your a**!! By the way Misa and every other stupid fan girl needs to back off because Light is MINE!! He is MY God!..Uh I'm being a spaz...Anyways I made my point, KIRA is filled with AWESOMENESS of EPIC PROPORTIONS!!!
L IS FOR LOSER!!! Now go have a nice ******** day b***h. biggrin
A few things about me now. I am 5'5" in height and weigh around 95-100 lbs. I love being me, because of my body structure I can eat whatever I want and not gain weight, its true! So ha, take that fat bitches. My birthday is June 26th, my zodiac is a monkey and cancer is my astrology sign. Are you a Scorpio or Pieces? -winks- My favorite colors are purple, red, and black oh and silver is alright too, but I really loath the color pink, so for the sake of your life, don't wear it around me..Wolves are my favorite animal and dragons are my favorite mythical creature, sorry unicorns are just too girly for me and I don't like any animal connected with the so called God, Kira is my only God.. One other thing is I am a huge pervert and not ashamed to admit it. lol That's all you need to know..

Yes as you can see I like to be random and I am quiet fun to be with once you get to know me. Though, don't get me wrong, when I'm mad look out because its scary. I am very twisted and would enjoy seeing my enemies in pain. You think you can scare me? Ha, you don't know the meaning of the word fear..Just a few simple things, be nice and don't piss me off and we'll be cool..That's all I ask..

Things I love: mrgreen

Light Yagami heart
Anime heart
nighttime heart
dark places
dark colors
video games
wolves heart

Things I loath: mad

Beggars evil
Hackers evil
annoying people evil
stupid people evil
Misa
the sun
bright colors
preps evil
illiteracy
Any ones marked with evil means I REALLY hate that. I will put up with it a few times but if its repeated I will take you off my friend's list and or ignore you.. - -

Any ones marked with heart means I REALLY love that. And if you do as well, automatic BFF YO! <3

I should also mention your best not to hate the things marked with heart If that's the case I won't like you very much and being BFF is out of the question now isn't it? rolleyes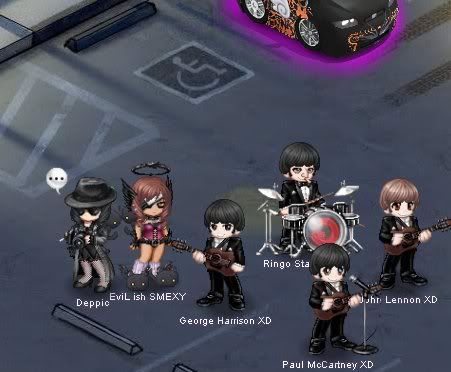 I met The Beatles on gaia! XD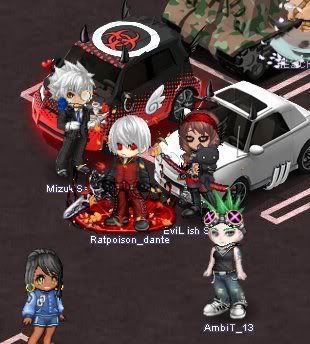 I met Dante from DMC (Devil May Cry) biggrin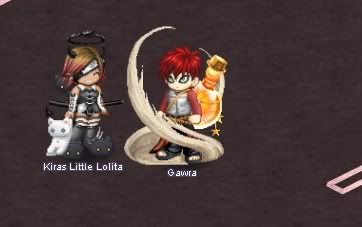 I met Gaara from Naruto! heart