About
I joined gaia to vote for my friend in the art arena way back in 2003 and I still don't have anything in my profile. I should fix that, right?
Well, I'm Amber, but most of my friends call me Ambee. I have 2 mules - Volvo Kitten and Quiet Patience. They're very, very spoiled mules.
I'm in my early 20s and I graduated college with a B.S in Business Administration with an emphasis in Marketing and a minor in Psych. I'm currently working at an amazing company and I help high level IT and management professionals get jobs with the government! I've done work with different military bases, the Pentagon, and closest to my heart - the VA, among other places.
I look like this:
Except my hair doesn't photgraph well. It's actually strawberry blonde, and my eyes are blue. I'm really short (5'4'')
You can see my hair color a bit better here, however.
I love boys <3 Especially musicians. Although I am probably the pickiest dater I know (and that kinda makes me sad, too. I just can't date without a vital "spark&quot
wink
I am obsessed with music (I did marketing in music all through college!) and I love to sing, act, hang out with my friends, play video games (and more video games and then some computer games and then...)
My Godchildren are so important to me and I have the best friends and parents a girl could ask for. I'm very blessed!
I'm also very friendly and very perky so if you want to pm me, go ahead!
Oh, and I also wear glasses 60% of the time. See?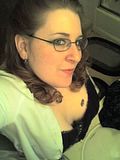 That is not a real tat, though! Piercings, however, are a different story...
This is a bit of a lame bio, but I encourage you to visit my quest thread to learn more about me and see more pictures.
AmbeeKat's Mystery Quest Thread
And I am in the most amazing Giveaway thread! Check out the link here or in my sig and come visit! We are all in the holiday spirit and there are contests every day as we get closer to Christmas.
D.O's Second Annual Christmas Giveaway! Come Join the Crazy Fun biggrin
<3 you guys
Friends
Viewing 12 of 160 friends