Amazing Afro Girl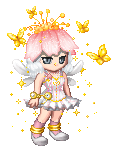 Details
Last Login

11/13/2013 3:22 pm

Total Posts

7383

Posts Per Day

1.54

Member Since

06/09/2006
---
Interests
Favorite TV Shows
Favorite Music/Bands
About
I'm willing to give up everything just to be with you. And to me, that's just Equivalent Exchange.
Flapjack
Book smarts are book smarts for me! I like to get them on the G! Before they fall asleep, inside of my brain! Book smarts are wonderful thi~ngs!
The Marvelous Misadventures of Flapjack
"Thank you, Bubby! I love you!"
"I love you too, baby."
"And I love you, K'nuckles!"
"...Go to bed boy."
"Whatever you wish!...My love."
Quote:

"Do you want to know why I use a knife? Guns are too quick. You can't savor all of the...little...emotions. You see, in their...last moments, people show you who they really are. So in a way...I knew your friends better than you ever did. Would you like to know which of them were cowards?" - Joker
Quote:
"It's a schemer who put you where you are. You were a schemer. You had plans. Look where it got you. I just did what I do best-I took your plan and turned it on itself. Look what I have done to this city with a few drums of gas and a couple bullets. Nobody panics when the expected people get killed. Nobody panics when things go according to plan, even if the plans are horrifying. If I tell the press that tomorrow a gangbanger will get shot, or a truckload of soldiers will get shot, nobody panics. But when I say one little old mayor will die, everyone loses their minds! You live. You die. Now we're talkin! Introduce a little anarchy, you upset the established order, and everything becomes chaos. I am an agent of chaos. And you know the thing about chaos, Harvey? It's fair." - Joker
iPwnBabies
=O

Ok, well just tell him to waddle on home when you two are done..

Daddy needs some excitement.. .____.;
Journal
My Journal
OH EM GHEE!
Just....random...stuff...I guess.
Multimedia