akibarachan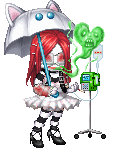 About
My name is Aki.
I have super blond hair and despite popular belief, I'm NOT short.
I'm obsessed with video games and anime.
Kingdom Hearts has to be my favorite game, and I'd say my favorite animes are Ouran Highschool Host Club, Death Note, Kuroshitsuji, and Axis Powers Hetalia. They make me smile.
4laugh
Some dream avitars;;
boys
girls
Also, I'm a f**. I like the females. If you don't like it, suck my d**k. ;o
I have a kitty cat named Ritsuka. I love him a super much.
I have a best friend, but I have lots of good friends too. I think its good to have a lot of people that you know you can trust and not just one best friend. <3
Journal
maddierxwr
maddierxwr
mmhm
Signature
A
K
I
B
A
R
A
C
H
A
N