About
Am I the only one who finds writing these things awkward? Anyway, here goes. My
real
name is Jessica, not Blessed, despite the (perhaps misleading) username I've chosen which actually comes from an Evans Blue song. (You can call me Blessed if you like, though - probably easier to remember!)
Random Stuff About Me
- I am currently 22 years old
- I live in a small Ontario town (for now)
- I AM A PROUD BAND GEEK: I played the flute for six years.
- I'm afraid of clowns, heights, doctors/hospitals, and getting sick.
- ...I'm the weird, nerdy/geeky/dorky one in my group of friends
- I used to dream about getting a letter from Hogwarts on my 11th birthday.
- My favourite colour is BLUE, though it changes to red periodically.
- I've wanted to be a (novel) writer since I was in the first grade.
- I love dark, twisted, loner-type characters (especially when they're humanized or redeemed)
- I love instrumental music (especially from video games!~ ♥)
- Speaking of video games... I could play them all day and night.
- I
love
the Final Fantasy games... especially Final Fantasy VIII. ♥
Next Avatar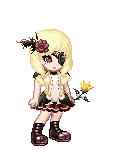 Tomorgenne Maid
Gun-Eye Gatling
Noel's Gift 5th Gen.
Red Gunner Boots
Scar of Rogue
The Rose of Versailles
SDPlus #266 Kottan Bell (optional - might not add, I dunno)