About
~~~~~~~~~~~~~~~~~~~~~~~~~~~~~~~~~~~~~~~~~~~~~~~~~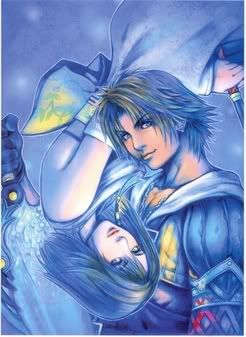 Sing me a song, the story of our worlds.
Clothe me in the lights of the night sky.
And let us stay here together till the end of all we know.
Let us dream that the night will never end-
That we can stand hand in hand until the end of our lives.
Let us dream of the day-
When I can go with you to the land you speak of.
The day that what we have fought is that of a legend;
When we can finally rest together- the eternal calm.
Let us dream...
~~~~~~~~~~~~~~~~~~~~~~~~~~~~~~~~~~~~~~~~~~~~~~~~~
'I fight for Spira. The people long for the Calm. I can give it to them. It's all I can give. Defeating Sin, ending pain... this I can do'
I would like to say I am a simple person… but that would be a lie. I have worried many of my friends and have had my share of mistakes. No ones perfect- but that is what many see me as, perfect.
My name is Yuna and I am a summoner from the isle of Besaid, though I was born in Bevelle. My father, High Summoner Braska, sacrificed himself to defeat Sin many years ago and bring about the last Calm. My mother, an Al Bhed, was killed by Sin even earlier then that.
Ever since I was born my path was chosen, I will be the one entrusted with the bringing of the calm. The space of time when Sin is no longer present, but then it shall be born anew and another summoner will have the task of defeating it. But not this time- the eternal calm will come, when summoners will no longer need to face Sin.
Name : Yuna
Age : 17
Height : 161cm
Weapon : Staff
Hometown : Bevelle
Class : Summoner

Friends
Viewing 12 of 85 friends
Journal
Yuna's Log

This is a record of how my day has gone. I will post in it every once in a while, that is once I get the time.
Multimedia
Signature


"To think I might not see those eyes..."