About


AN ANIME LOVER!! FINAL FANTASY LOVER,RESIDENT EVIL LOVER
AND RPG AND TEKKEN 5 LOVER!!
Many people told me that im beautiful,kind,smart,generous and tall but really, I am just a young and naive girl who wants all of her dreams to become a reality.I like to draw,to dance and everything in my interest box.I love my friends and family and I like having fun w/ them.I like the pairing of cloud and tifa.Although I know that they are not canon,but I still believe that they will end up together.I dont what to argue with some clerith fans out there,because I respect other people's opinions.Tifa is Cloud's moral support,she comforts him whenever he is in pain.Cloud also had a crush on tifa when they were young,but tifa didn't realize it.And came the day Cloud join soldier and tifa had a crush on him too.They even have their promise.If you want to know their story and why Im so addicted to them,just play the game or search about their lives.And one thing.In the end of AC,tifa smiled at cloud and he smiled back,isn't it romantic?
This is one of the lines cloud said to tifa when they were in the lifestream:

TIFA: "NOW THAT YOU MENTION IT,WHY DID YOU JOIN SOLDIER?"
CLOUD: "....I WAS DEVASTATED...I WANTED TO BE NOTICED
....I THOUGHT IF I GOT STRONGER I COULD GET SOMEONE TO NOTICE."
TIFA: "SOMEONE HAS TO NOTICE YOU...?...WHO?
CLOUD: "WHO.....?YOU KNOW WHO....!!....YOU,THAT'S WHO."

CLOUD AND TIFA 4 EVA!!!!

I finished many RPGs already,so if you want to know them just look at my profile.

I ALSO LIKE TO PLAY TEKKEN 5 and 6 AND I AM REALLY GOOD AT IT. THE CHARACTERS THAT I USE ARE: ASUKA,JIN, DEVIL JIN,KAZUYA,HEIHACHI,WANG,BRYAN,
MOKUJIN, MIGUEL AND JACK-5.
IF YOU WANT TO KNOW MY SKILLS,
THEN WHY DONT YOU
CHALLENGE ME THEN,TO KNOW HOW GOOD I AM.HEHEHE!
Friends
Viewing 12 of 129 friends
Signature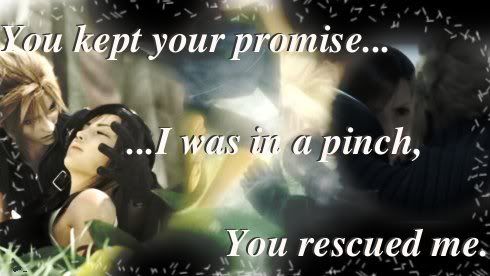 ~TIFA QUOTES~
"Dilly-Dally Shilly-Shally...Dilly-Dally Shilly-Shally!"
"Which is it?A memory or us?"
"Whenever I'm in trouble,my hero comes and rescue me."
PROUD CLOTI FAN!!