About
Im 16, My birthday is Aug. 18th biggrin
Taken and Prego smile
Im in high school!
Im straight :3 ( But cool with gays and bi's)
I like blue and silver things biggrin
Im A.D.O.S ( Attention Deficit Oooooh Shiny! ) o3o
Me!
Dont like it?
Well im not trying to impress
YOU
smile
Alittle about me: Im not the smartest person ever but im good after reminders x.x my teachers say, Im smart i just dont care! Im a big cookie whore, I enjoy walks and i love hanging out with people. Im not the greatest with spelling but im deffenetly not the worst! I may look rich but im actually extreamly poor O.o lol most of my money comes from selling things! Im not very patiant and i have a short attention span. If i get bored...im probly not coming back o.0 And i love talking to people on gaia! So send me a random pm or comment anytime! ^_^
Likes:
Her puppy( that should be under loooooove) Drawing, doodling, chatting, buying things, laughing, being alone, haning out with friends ( i know weird huh? o.0) Animals, Little Computer pets,Being away from home, World Of Warcraft, Eating cookies, Mythical creatures, Sims ( i know nerdy huh? o3o), Funny things, music ( i will die without it O.O ) heart
I colored dis :3
Hates:
Mean people, people who think they are better than others, Talking on phone ( txting ftw ), school, noodles ( ick! ), People who think they have godly powers, Boring people D:, bugs o.o, complainers,My ultimate thing i hate----> clingy people >.<
The Wolf Pack
Send me PM and if ya wanna join!
Me
(Rain)
=
My Sister
(Starfire)
=
My best friend
(Noe)
=
Bestfriends sister
(Leira)
=
My Mom
(Mom)
=
Unknown
=
Blackgold
word
Nakita
Annie
Ookami
All the art on my profile made by = o a t m e a l xGOAT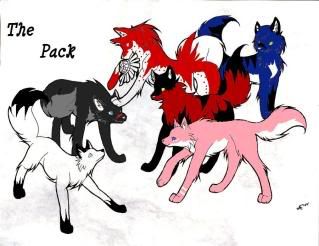 i colored dis :3