0Kira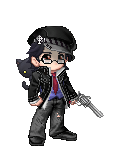 About
Please give the profile a bit of time to load. Thank you.

In loving memory of

Ivy

(December 26, 2002 - April 19, 2010)

I will miss you forever~



My name is Kira. I have little to say because anything I wish for you to know, you will know. I believe the more time you invest in someone, the more you deserve to--and will--know about them. I also believe that in doing so, you will forge a bond not easily broken or wavered. That being said, if you're willing to invest the time to get to know me, I will honor that and try to do the same for you.

Thank you for visiting my page.

Tempus neminem manet.
"Time waits for no one."








Friends
Viewing 9 of 9 friends
Journal
My Musings
Multimedia