-

This shop no longer exists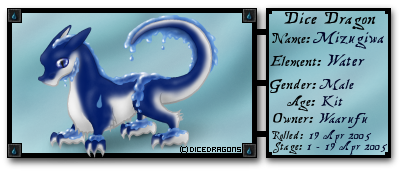 Untagged Dice | Tagged Dice | Untagged Hatchling

Mizugiwa was the first pet I got here on Gaia, and he was won through a prompt comeptition with four entries and three winners. He wasn't my first pick, but he was my second. I am a little upset that the shop closed without letting us really know what happened - it's slightly upsetting.


***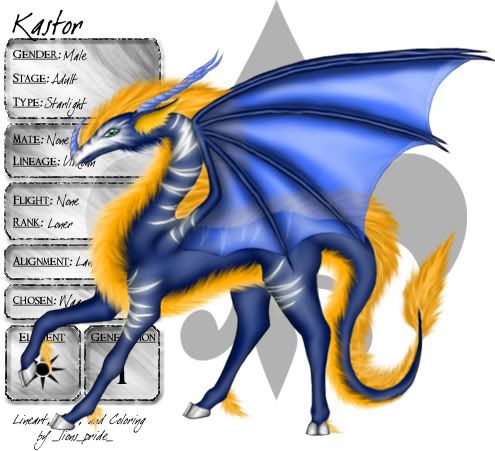 Kastor was a belated Christmas gift (he came in February due to shop colorist issues) from Chryssta. I really can't believe how beautiful he is! He's the first full grown adult light elemental too! His bond partner is a dark elf by the name of Umaia - literally meaning unbeautiful one, and they're an interesting pair to roleplay.


***



StarDust Shop

- Originally managed by Feline Oddity, now in GlacialWolf's capable hands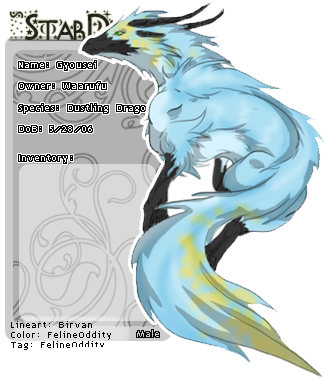 Dustpan Untagged | Dustpan Tagged | Emerging Tagged | Child Tagged

Gyousei was my first ever Dust, caught as not first choice during a flat. He's developed into a gorgeous adult with a few complexes about other dusts and a strong bond towards Jahn, the scientist that is in charge of him.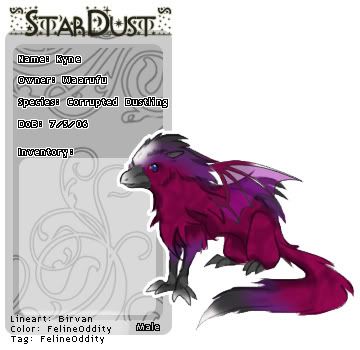 Untagged Dustpan | Tagged Dustpan | Tagged Emerging | Untagged Child | Tagged Child

The wonderful surprise that awaited me this morning was in a PM from Mialee. She had gotten the results of her breeding from Feline Oddity the night before, and I had commented, like many people, on how beautiful they were - Mialee had given me and GlacialWolf the second and third dustlinga from the breeding! I was so amazed, especially since the Corrupt male was the one that I had fallen in love with, but hadn't even said as much. That was so incredibly sweet of her, and I really hope to RP with her with little Kyne now.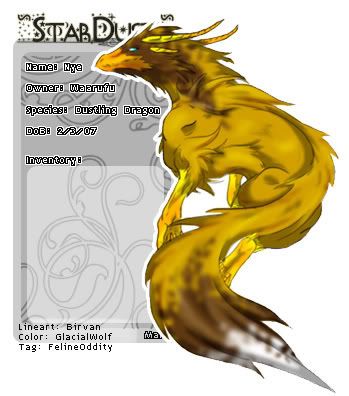 Untagged Dustpan | Tagged Dustpan | Tagged Emerging | Tagged Child

I happened to be around StarDust when GlacialWolf opened the first flatsale of the new shop, which she is running. I grabbed lil' Nye as the result!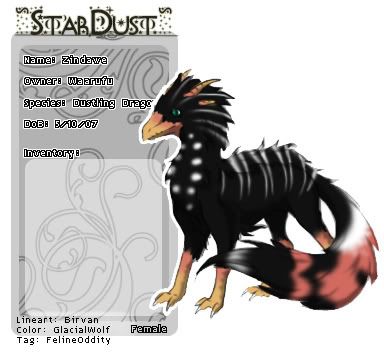 Untagged Dustpan | Tagged Dustpan | Tagged Emerging | Tagged Child

This beautiful little one is my first female - and I certainly needed one with these three males running around!


***




-

Closed, possible candidate to be revamped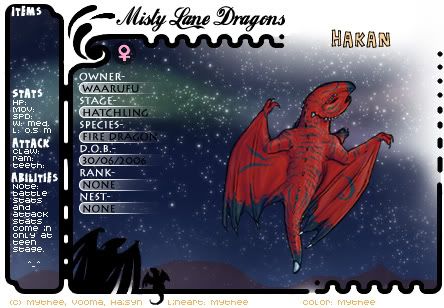 Untagged Hatchling | Tagged Hatchling

Well, I was hanging around in the Stardust thread when Mythee posted in her shop mule account. I saw the signature, got curious, checked it out... And got online during my work hours (I wasn't working... dun worry) for the first flatsale. Because, erm.... SQUEE!!! Hakan is my little baby girl, and the first Fire dragon from the shop's first flat. She's... very special to me. Each of their dragons is unique lineart too in all their stages. I highly highly highly encourage everyone to go check them out!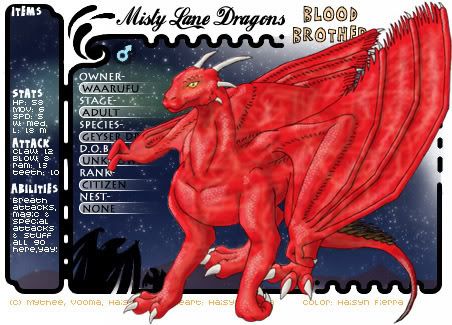 Untagged Teen | Tagged Teen | Tagged Adult

Brother is a custom, and the first custom mixed breed dragon there is. I'm very very excited to have him, and even more so because he's based off of one of my own characters. ^.^