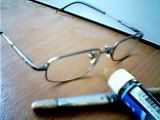 A page that I would not want to see again...

This is an entry from my highschool slambook.

It's more like a little book containing (farewell) messages from my classmates.

This was my most cherished one:

Quote:

March 7, 2003 8:23 pm

Miguel*,

Hey there! =)

I'm pretty sure that most of the time you'd be reading my page in your slambook I won't/can't be near you. Though crossing the miles between us would be too much to ask, I really do hope that by remembering me would bring a smile to your face. =)

I'd like to express my deepest gratitude for being such a great friend during all those years fate has chosen for us to share. From our wacky and fun elementary years to our adventure and challenged-filled high school years. You've been such a blessing, you know! I was quite scared of the idea of going to a new school and somehow I've found someone who'd probably understand me at some points having known me in my younger years... Thank you!

As we part ways, days from now, I truly wish you all the best of luck in the world! Having known you and having spent wonderful memories with you, I know that you're certainly one person who'd definitely go a long way in life. Just remember to have faith in our Creator always. Believe in the person you are and in the person you'll be (sounds familiar? =) ) Never let anyone make you fell you don't deserve what you want. My greatest advice (as if you asked for it =) ) is to live life to its fullest! It just hit me that we only get one chance in this lane and have to do our best in everything so that one day we'd have a story we'll be proud to tell... (I'm getting senti, no? =) )

So how do I end this? Thanks again for everything... for the rides (the RD gang!) we shared, the little chitchats we had, for being such a great listener and seat mate (1st yr!). Rest assured, those memories will always be cherished and fondly remembered now and then. Take care always and keep on making God, your family, your friends proud of you as you always did!

Good Luck and God Bless!

Always,
**** heart




*my first name

I didn't mention her name since it might make a troublesome commotion, especially when my buds from high school see this.

This was the first time I've read that page in 4 years, and this will also be the last time I'll read the real thing.

I'm putting it away for good.