I leave for the airport in about eleven and a half hours.
My s**t's all packed up, the clothes I'm wearing now are going to be what I'm wearing when I land.

And that means it's time to think.
I'm running again, like I always do.

And it's starting to dawn on me that I'm tired of running, because it's not really situations that I'm running from when I uproot everything and start over. It's myself.

When you don't like the person you are, you'll never be happy no matter how great things are around you. And quite honestly, I don't like myself. I'll never be what I want myself to be.

I look in the mirror, and no matter how great other people tell me I look, I can't see it. I'm shorter than I want to be, but that's minor. I'll never be able to grow my hair the way I want, thanks to genetics, but past that, I'm not who and what I'm supposed to be.

Look. I took a picture. No angle, no facial expression, just clicked the button to take it. I look like s**t, but that's the point, isn't it?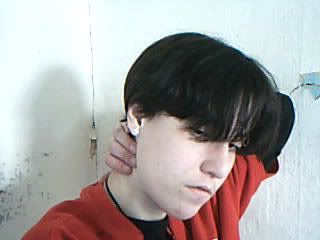 D'you see it in my face?
The femininity?
I can, and I hate it.
I see it in the body I hide under baggy oversized clothes, hoodies and JNCOs because they mask damn near everything.
I am not who I want to be.

Why can't I just be ******** happy with being female? Everything would be so much easier, I'm attracted to males over females, and I've already got the body to go with it.
But no, I have to make everything difficult, because I -feel- male.
I can't even look the part properly.

I need to work things out with myself before I run again, if I do. And I'm not counting this time. Because no matter how many times I run, I won't leave myself behind.

*shrugs*
I may be gone longer than I planned, but hopefully I'll come back having made some peace, yeah?