Name:
Aurora Rosabella Sundance
Gender:
Female
Age:
19
Hair:
Long black hair tied up in a high ponytail, splits down the middle and ends with red tips
Eyes:
Purple
Partner Pokemon:
Lucario (main, nicknamed "Rio&quot wink . Gardevoir, Ampharos, Sylveon (more to be listed)
Biography:
Aurora comes from very mysterious origins. No one knows where she really came from although her rise to fame is well documented. The only people who know about her true origins is Aurora herself and her Lucario (nicknamed "Rio&quot wink . Her publicly known "biography" is that she was raised by Pokemon in the forest as a baby and that when she turned five, she sought out Professor Oak and learned the more "human-known knowledge" of Pokemon. She can speak and understand Pokemon speech and is an Aura Master of sorts, able to manipulate the aura around her, using it to heal and manipulate things. The color of her own aura is a pinkish purple. Even before going to the Professor, she knew things that even he didn't know about. The source of her knowledge, even now, remains a mystery. With his permission and the League's, she was able to start her Pokemon journey a year earlier, at nine years old and since then has risen to the top to becoming a Master. Her constant travel companion is her Lucario, Rio.
Personality:
Aurora has a high sense of justice and morals and hates to see any Pokemon hurt or in distress. She loves all Pokemon and would do anything to protect them, at the cost of her own life sometimes. She is highly intelligent and well-versed in all things Pokemon but sometimes she can appear clumsy and dreamy, much to the dismay of her Pokemon partner, Rio.

Rio, on the other hand, is aloof and distant with others. Since he can manipulate auras as well, he has the ability to speak to others via telepathy, although even then, he doesn't speak much. The only person who can really get him to open up is Aurora. With her, Rio is always kind and gentle, treating her with tenderness and respect.
Family:
She has no family that anyone knows of; the only family she has are her Pokemon, in particular her Lucario, Rio. Rio is a bit overprotective (and sometimes even a bit over-possessive!) of his mistress. He calls Aurora the "aura of his heart" and they act a bit like heart-bonded soul-mates a lot of time.
Description:
Aurora has long black hair tied up in a high ponytail that ends in twin tails with red tips and purple eyes. The dark blue bow that keeps her hair up has long trailing ends tipped with red as well. Her clothing consists of a yellow sleeveless blouse with a white neck ruffle and black corset bottom with dark blue embroidery. On the neck ruffle is a yellow bow (the same color as the blouse) with her keystone (for mega evolution) in the center. She wears short dark blue shorts with a thick, black irregular line going down the center, with black ruffles on the bottom. On the outside of this, she wears an opened steampunk-y looking tailcoat in dark blue with puffed sleeves that slim down towards her elbow, but only just above it. There are ruffles at the ends of the sleeves and beside the ornamental buttons. She wears knee-high stockings that are dark blue and that same irregular black stripe and studded red half boots with buckles on the sides.
References
Color Scheme: Her color scheme mirrors the Mega Evolution of Lucario so the colors of her outfit are in shades of dark blue, black, yellow and red.

Hairstyle: This is how Aurora's hair looks like. Her hair is black and split into tails tipped with red but the bow (there is a bow) is dark blue with trailing ends tipped in red.

Outfit: Here is a really bad sketch of her outfit. The top consists of a yellow sleeveless blouse that goes up to her neck with a white neck ruffle and a corset-like bottom in black with dark blue embroidery: a bit like this. As in my sketch, her bottom consists of dark blue short shorts with a black irregular stripe (like Mega Lucario has) with ruffles at the bottom.

Her tailcoat is also in dark blue with maybe some black embroidery on it and sleeves that are puffed at the top and slim down to above the elbow and ends in black ruffles. The location of the ruffles would be a bit like this with some ornamental buttons that do NOT button, leaving what she wears on the inside out in the open. The back of her tailcoat looks like this.

Referring back to my previous sketch, she wears knee-high stockings with another irregular stripe and half boots with studs and buckles on the side. She also wears dark red fingerless gloves like this, only the cross is replaced by a one large, one small, diamond-shaped studs.

One of the main important details to note are the Mega Stone and Key Stones. These items are used for mega evolution and are very important to the entire outfit. On Aurora, her keystone lies in the center of the yellow bow on her neck ruffle. Her Keystone is rainbow-colored and is surrounded by a gold, asymmetrical heart detail. Her Lucario partner, on the other hand, wears a collar around his neck studded with red and blue jewels with his Mega Stone (the Lucarionite) right in the center. The Lucarionite is red-blue-orange in color and is also surrounded by the same asymmetrical heart detail. Their Stones look like this.


---------------------------------------------------
~By Xyrise!~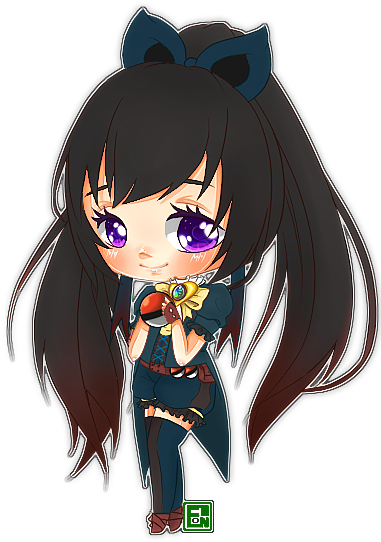 ~By Giyoo!~
~By ThanatosRising!~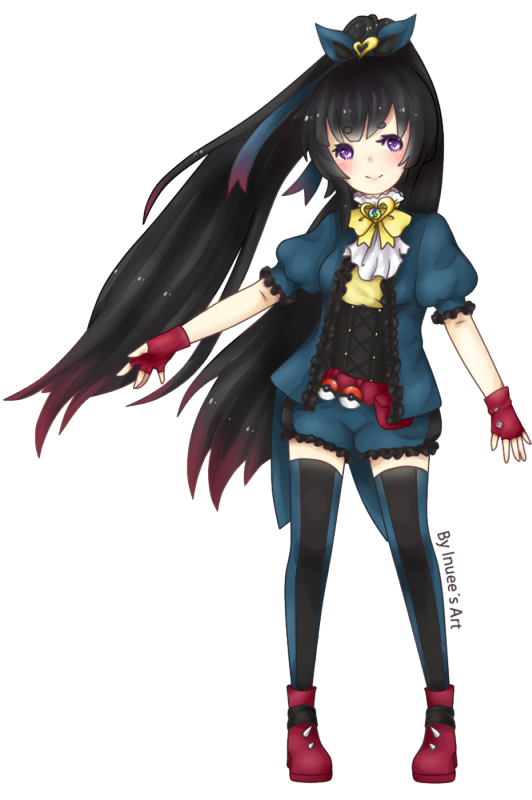 ~By princesashini!~
-----------------------------------------------------------
~Refs done by other people~
1. BopuTofu
2. Xyrise
3. Giyoo
4. ThanatosRising
5. princesashini
6. princesashini (ref. sheet)