Name:
Shizuka Fujiyama
Avalon Nickname:
Shun
Gender:
Female
Age:
16
Hair:
Dark blue
Eyes:
Grey
Biography:
When she was just a little girl, Shun lost her parents in a tragic car accident. Ever since then, she's lived with her grandfather, while being on pretty good terms with her uncle. She throws herself into her studying and is almost always seen reading something in her hands, whether that be a book or a tablet. She's also pretty get with technology and she can play the piano and the guitar (which she learned from her uncle). At the private all girl's school that she attends with the rest of group, she's the secretary of the Student Council and within their band, Avalon, she's the keyboard player.
Personality:
Shun comes off a bit cold and calm and she doesn't like to show much expression on her face. She comes off as a bit deadpan and sometimes, it seems like she just sees right through you. She is also highly intelligent, almost on par with Yue's IQ so the two of them get along pretty well, discussing obscure texts and subjects sometimes. However, while Yue is a bit more open with her emotions, Shun is the opposite. Most often than not, she'll give you a steely glare through her glasses.
Family:
With both her parents dead from a horrible car accident, she lives with her rich, doting grandfather. She is also close with her uncle (her father's brother) who is a famous music producer and head of Star Records, where all the greatest musicians and artists are born. Star Records is the leading contender in the music industry (although they're not just famous in music!), with Shine Studios competing for second place after it. He doesn't really like Xinect4, the all boy's band who had originally tried to get a record deal at his company but were rejected because he thought they had lacked something. His fondest snarky comment about Xinect4 (who were later signed on by Shine Studios) is that "although they might 'shine' bright, they'd never be 'stars'."
Description/References:
Shun has grey eyes and dark blue hair that is part on the side and kind of hangs over one eye. On her right ear is a blue rose earring. Around her neck, she wears headphones (not necessarily blue) which she sometimes puts over her ears and pretends to be listening to music. Some outfits she might wear would look classy yet understated, maybe like this or more punky looking like this. So, her style is like a bit of Yue and Kai. She's usually carrying a book or a tablet in her hands, reading. She's around medium height, maybe 5'4" or 5'5" or so, but still taller than Haru.
--------------------------

~By Patriklus!~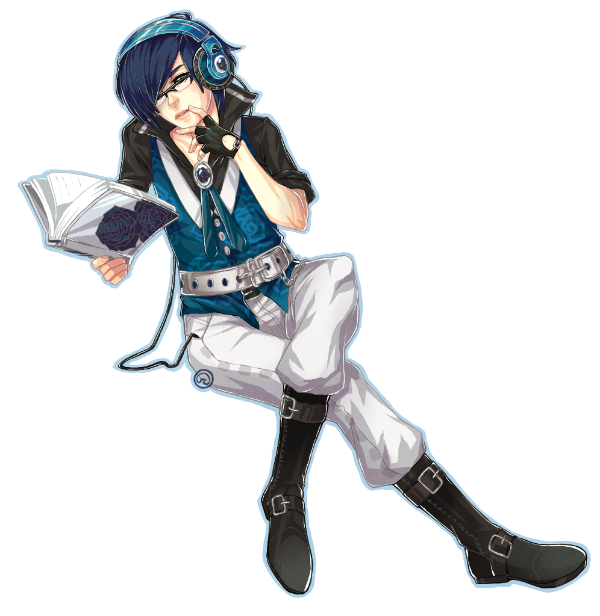 ~By Ofan!~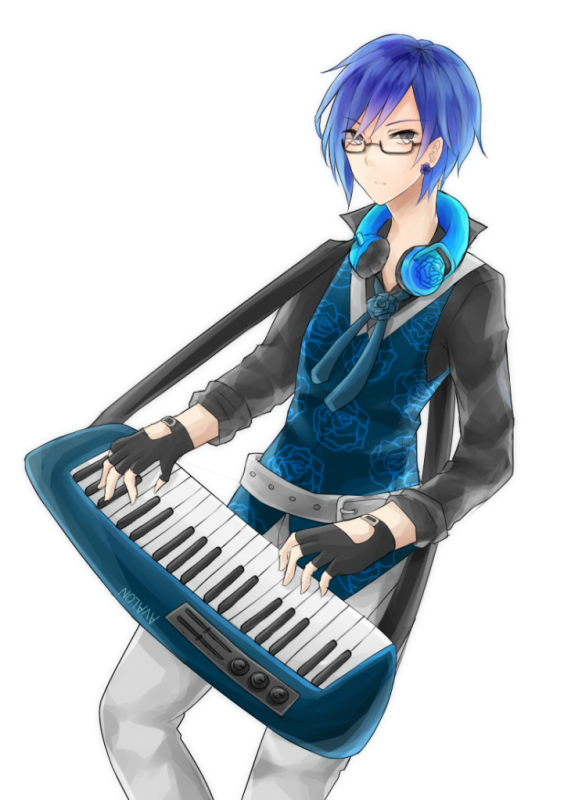 ~By Captain Pupi!~
~By kagefumi!~
-------------------------
~Refs by other people~

1. Anonymous artist (received as anonymous gift!)
2. fuu senpai
3. princesashini
4. Patriklus
5. Ofan
6.AsterKurayami (Shun on keyboard)
7. Captain Pupi
8. vaqueiro
9. Reiuna (group shot!)
10. kagefumi
11. dezimation
12. CioccoLatte
13. BluuPuppy
14. iDouji (Roli)
15. Remanoir