Name:
Harumi Shinonome
Avalon Nickname:
Haru
Gender:
Female
Age:
15
Hair:
Light brown, slightly curly
Eyes:
Hazel
Biography:
As the youngest member of the group, Haru can act a bit childish sometimes and loves all things sweet. Although she was never really bullied by the other kids when she was younger, she was so isolated from everyone that she had no friends. A bit of an artist, she's also very good with animals and aims to be a vet. Her father is a highly successful doctor and surgeon and her mother died after she was born, so she's never had much of mother figure in her life, apart from her grandparents. She attends the same prestigious all-girls school as the rest of the girls and is sort of the Treasurer/Event Planner of the Student Council. Known as the Pink Rose, she is also the drummer of their band, Avalon.
Personality:
When she was younger, she was so shy and timid that she couldn't even speak properly or look anyone in the eyes. Because of this, she was a bit isolated from everyone and it didn't help that her father paid little attention to her. After gaining a boost of confidence from Yue and Kai, she becomes a lot more outgoing and exuberant. She can sometimes act a bit childishly, always trying to pout her way out of things, so she can be a bit of a handful! She does have her quiet moments, a shadow of how she used to be, so she'll sometimes look away thoughtfully, maybe while she's doodling in her sketchbook.
Family:
Haru lives in a nice manor house with her father, grandparents and a slew of pets that Haru rescued and treated herself. Her father is a well known doctor and surgeon and is on the board of directors at a hospital that has been in his family for awhile. Her mother died when she was born due to complications in her birth and her father was devastated at the loss, for he had loved his wife very much. For some time, he blamed his own child for the loss of the one person he loved and he was very cold and distant towards Haru (it also didn't help that she was the spitting image of his wife). Her paternal grandparents also live with her and they raised their granddaughter as best as they could and with all the love they could possibly have to give. Even so, Haru and her father weren't always on the best of terms as she was growing up.
Description:
Haru has short, slightly wavy brown hair that tends to curl up on the tips and looks very soft and cute on her. Her eyes are a hazel color and sometimes appears greenish in certain light. Out of the entire group, she's the shortest of them all, maybe around 5ft or so. Because of her love of animals, she has several animal hoodies: a frog, a bear, a dog, a panda, a rabbit, a duck and a cat. Apart from her hoodies, she wears casual clothes, like t-shirts and shorts with high socks and sneakers. She's also always either holding some kind of snack or candy, or a pair of drumsticks for her drumming and wears wrist/sweat bands on both wrists.
References
Haru's hair is nice and wavy and cut short like this although her eyes are more greenish with a bit of brown (so hazel colored eyes). She's the shortest one out of the group, only around 5 ft or so and, like the rest, she looks very boyish (so no chest to speak of, hidden under baggy or loose clothes). An idea of how some of her hoodies look like: here and here, although her hoodies are short sleeved, not long. Under these hoodies, she'll wear something simple, like a t-shirt and shorts, maybe like cargo shorts, with long socks and sneakers. There are also wrist/sweat bands around both her wrists. Something that she would wear more "formally" like during a band performance would look something like this, only in different colors (probably brighter ones!). On her right ear is a pink rose earring.
-----------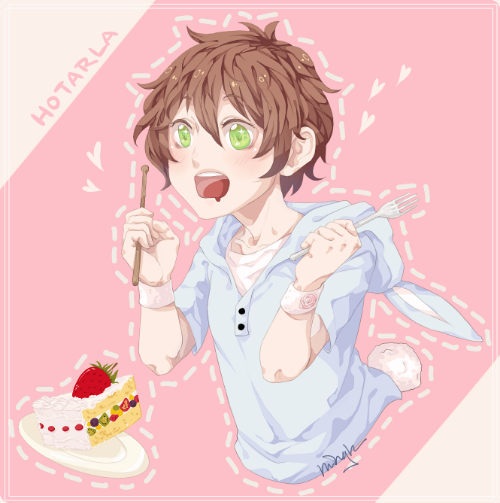 ~By minghii!~
~By BopuTofu!~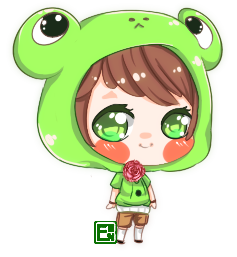 ~By Giyoo!~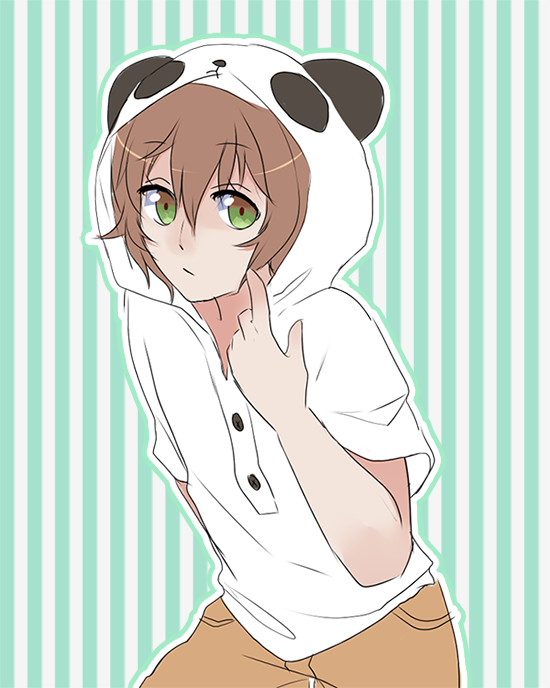 ~By ayyyygirl!~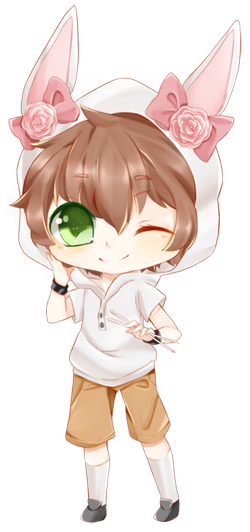 ~By kagefumi!~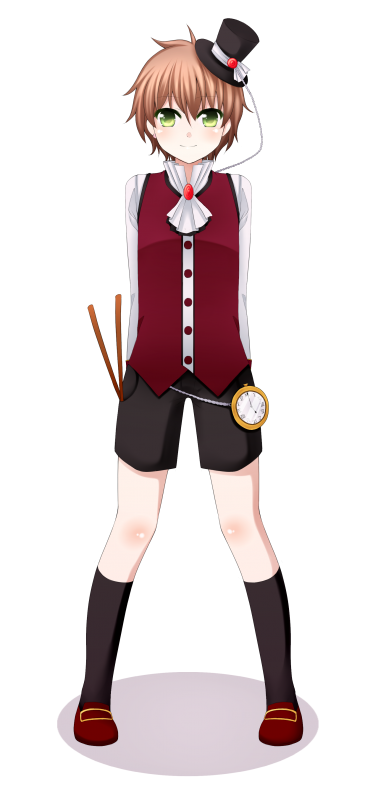 ~By Willowspell! (band outfit)
~By pikaxiu! (band outfit - alt. color)~
---------------------------
~Refs done by other people~

1. cbcg11h1xj13 (Roli)
2. princesashini
3. ayyyyygirl
4. g h o s t v o m i t
5. Hindrr
6. Blow Dry (middle right)
7. Willowspell
8. Despitemyfears
9. Eukleides
10. Reiaal (1)
11. Reiaal (2)
12. BopuTofu
13. Frostielichious
14. centus
15. Aseliina
16. AsterKurayami (Haru on drums)
17. pikaxiu
18. || Oreoo ||
19. Reiuna (group shot!)
20. Giyoo
21. kagefumi
22. ThePoorCornelius (Haru w/ Kai)
23. Ayasato-san
24. Purple-eyed Dreamer
25. minghii (w/ BG)
26. minghii (w/o BG)
27. LitaKoyuki (group art - Haru in brown)
28. CioccoLatte
BopuTofu