Name:
Akari Tachibana
Avalon Nickname:
Kai
Gender:
Female
Age:
17
Hair:
Blonde, normally done up in a high spiky ponytail
Eyes:
Blue
Biography:
At first glance, Akari looks and acts a bit like a Yankee delinquent. With her blonde hair and blue eyes, she had always been teased for these looks when she was younger and each time, would retaliate by fighting back. It's only after a chance encounter with Yue that she starts to change a little (and pick her fights a little bit better!). Since then, she has been Yue's friend and fellow mischief maker. It is only later that they meet the other two girls, who were also being bullied by other kids. Like Yue, she doesn't have a lot of friends, only this time it's because her father used to be in the mafia and they're afraid of her. She attends the same school that was formerly a private all-girls school as Yue and is the vice president of the Student Council, as well as the bass guitarist of their band, Avalon. She is known as the Amber Rose.

Personality:
Like a yankee, she's loud and hot-headed, bold and blunt with her words. She never thinks things over before saying or doing it which results in a lot of conflicts. She's also got a really bad temper (a bit of a short fuse!) and she likes teasing and pulling pranks without them being (too) malicious. She hates to study(but still gets marginally good results) although she's pretty good athletically. She always loves a good challenge (or, to be more precise, she can't resist a challenge!) and she's highly competitive. The word "impossible" does not exist her in dictionary!
Family:
Her father was a former mafia leader before cleaning up his ways and becoming a successful businessman after he meets his wife. He is the picture of a doting father and husband and has a bit of a daughter complex. Very overprotective, he hates any man that gets close to his precious daughter and his cloying affections is a source of heated conflict and occasional violence between them. However, if he ever gets out of hand, the only person who can rein him in is his wife. His wife is a small and petite woman, beautiful and graceful and looks a bit like a fragile porcelain doll. But her looks are deceiving: she possesses a will of iron that can cow even her mafia husband. Along with her parents, she lives with all of her father's former "followers" and he is always getting them to follow his daughter so that they can keep her away from all the "insignificant insects" that bother her. And, even though he is no longer a mafia leader, he keeps one eye and ear to the underground, just in case.
Description:
With her wild blond hair tied up in a high ponytail and her piercing blue eyes, Akari is the spitting image of a yankee. Like Yue, she dresses in a very manly way (like Yue, she's pretty flat in the chest area), although she's a bit more "freer" with her clothing. Her clothes usually look more punkish, giving her the whole "delinquent" look with all the spikes and crosses and the like. Normally, her casual clothes consist of a black and yellow t-shirt and dark/black jeans with yellow belt loops. She might wear a scarf around her neck sometimes and she always has a few necklaces with skulls and crosses and studded leather bracelets on both wrists, as well as fingerless gloves. Another outfit she might wear is a plain, loose white buttoned t-shirt with a loosely tied yellow tie around the collar (like Yue) with a black vest and the same kind of jeans. On her feet, she wears designer sneakers that are black, yellow and white. On her right ear, she has one piercing, that of a yellow rose stud.
References
Her hair would look a bit like this, long and tied up in a high ponytail and falling wildly down her back. One outfit she might wear would have a black and yellow shirt paired with dark jeans with yellow accents and exposed belt loops (so that she can hook her fingers through them!). Another casual outfit she might wear would look a bit like this, only in colors of yellow, black and white. Other outfits she might wear would look like this paired with a black sleeveless vest on top (probably looking like this) or, for a band performance, she'd wear a shirt like this. On her right ear, she would have a yellow rose ear piercing and she'd also be wearing various necklaces and studded bracelets on both wrists. She also likes giving people the horns, because she's a real punk rocker when it comes to music.
---------------------------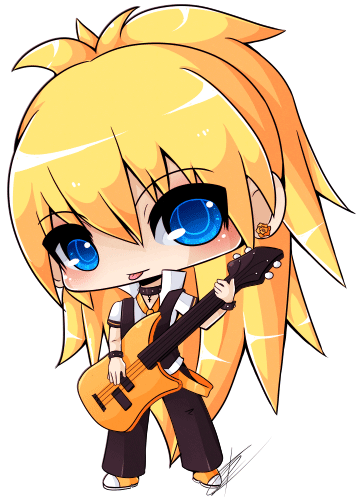 ~By ThanatosRising!~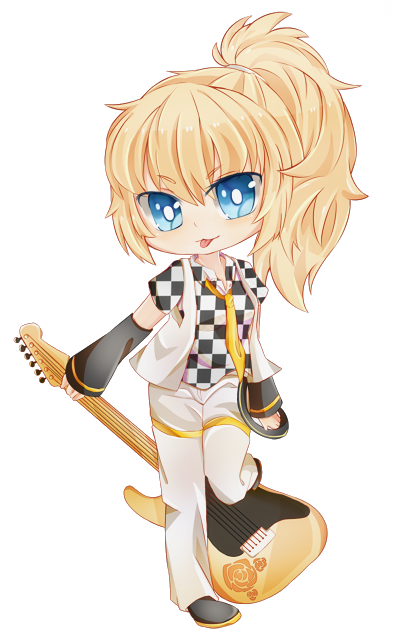 ~By kagefumi!~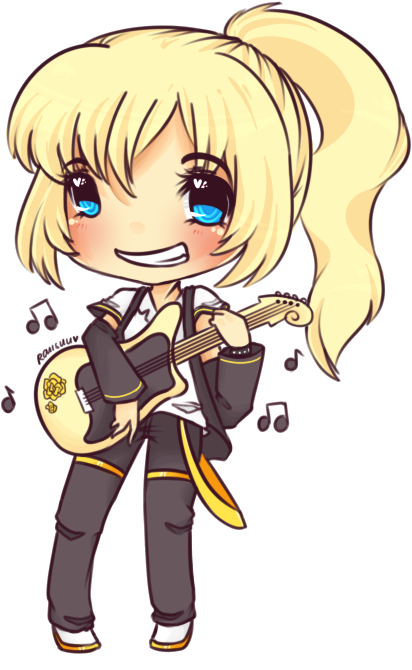 ~By Raiisuu!~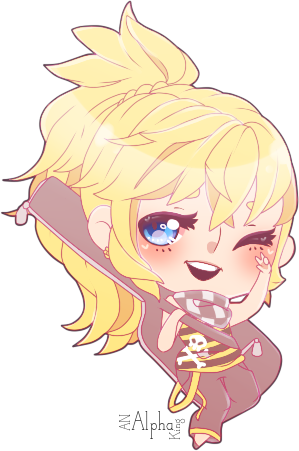 ~By Patriklus!~
~By Thyresis!~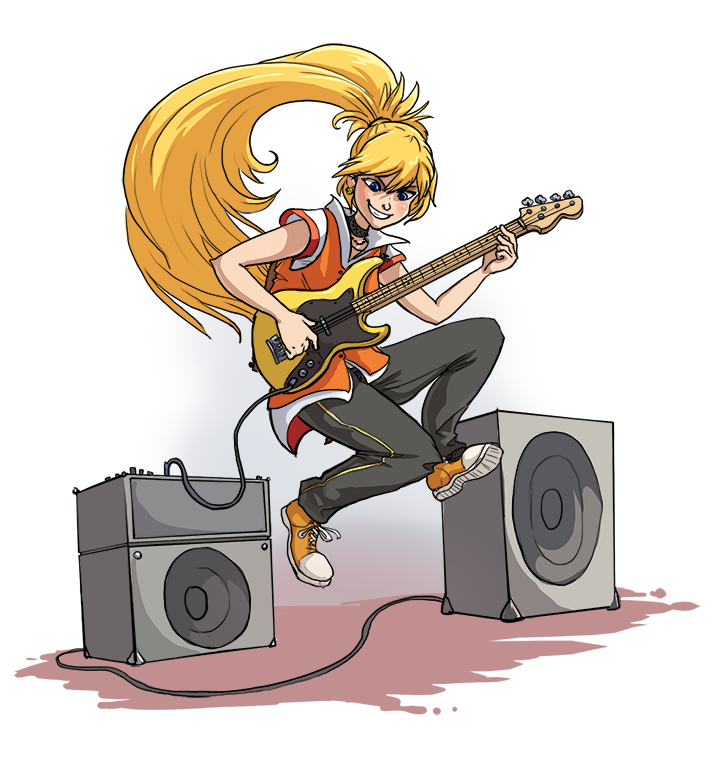 ~By Drink the Water!~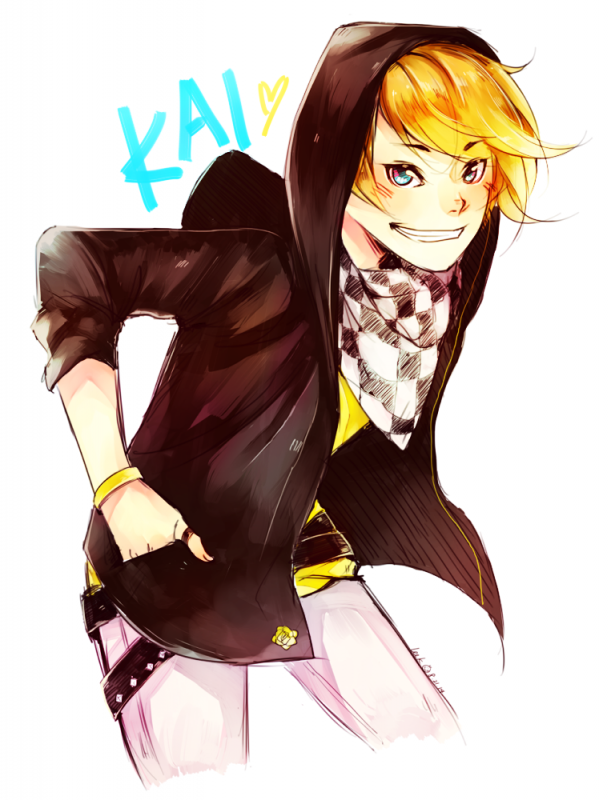 ~By sir leek!~
-----------------------
~Refs by other people~

1. princesashini
2. Minty bat
3. Blow Dry (far right)
4. ThanatosRising
5. Idia
6. kagefumi
7. mistahprince
8. Len Inazuma
9. ikeimen
10. Flutter Fox
11. Raiisuu
12. AsterKurayami (bass guitar)
13. Patriklus
14. jingbabu
15. Reiuna (group shot!)
16. Thyresis
17. ThePoorCornelius (Kai w/ Haru)
18. Drink the Water
19. -O w O- ART
20. Le Morbide
21. sir leek
22. CioccoLatte
23. iDouji (Roli)