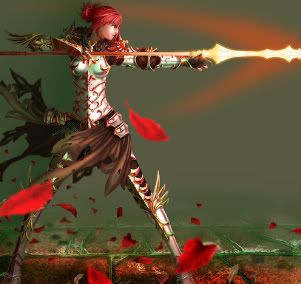 Current Position: Kingdom of Erlantz; Inside the Castle.
Current mood: At peace.
Company: The Goddess Haizea.
Weapon: LaCruix (Her lance...yes she named it.)
Iviana remained still as the goddess reached out and placed a hand gingerly on the woman's head, blessed by her actions her heart seemed to race. She had told Iviana that her song had indeed reached her ears. It made Iviana proud even more so when she had the looks of both parents, and allowing her emotions to cloud her mind Iviana let a smile break-through her porcelain face, she never really knew her mother and secretly she wished she had. The only memory of the women she had was of running threw the fields outside of their kingdom into her loving arms as she embraced Iviana raising her up into the skies and singing a soft lulliby. The memory faded and others attempted to replace it but shaking off her feelings, hearing the goddess speak once more and touch her chin to gaze upon her Iviana smiled and her eyes softened much like that of a child's. This was truly their goddess, she could sooth the savage beasts and even turned the hardened warriors sole to mush. Chuckling Iviana's words must have sounded so regal and defined and yet foolish. Watching the goddess straighten herself out Iviana rose and stood beside the goddess, silently she attached La Cruix to her holster on her back and shifting her armor so that it wasn't weighing down on her shoulders she could have sworn that Iviana had caught a glance of dampness on the goddess' cheeks but she refrained from saying anything and entering the castle along side Haizea.
Iviana watched doors bustle open and the stale air was replaced with that of the scent of the forest, beside her the goddess spoke again. A prison? So she had noticed how things were changing. In truth Iviana had spent many times with the royal family as it was her sacred duty to protect those under Erlantz's banner, but as of late the rebuilding was taking more and more of her soldiers away under Iviana's own request. Yet she had seen for her self how this castle stood, to those on the outside it was a glorified symbol that through it all they had stood, if not victorious then at least victorious in their hearts for having lived through such a tragic event. Yet to those living inside its walls it was a glittered prison. Placing a hand on the frame she paused closing her emerald eyes, she did wish for some freedoms but it would seem that the King was intent on keeping his family close, but just how close would he keep them before their home would turn more into the gallows. Hanging her head soft she fallowed the Goddess.
"Truer words were never spoke m'lady." she replied as her emerald eyes gazed at the interior. "But is it also not a symbol to the people of hope in these weary days. There has been such a collective outreach to rebuild, slow in its approach but I have seen many of my knights helping the townfolk with rebuilding much that was lost in the war." Iviana replied trying hard to take the subject towards happier times. Although Rose .. er the princess was much better at this then she was. Iviana was never one for cheerful moments, in fact the only time she had shown emotion was one night where she had lost a bet with her fellow knights. In losing the bet she had to go out one night on the town and drink with them until she cracked a smile. Four drinks later she was giggling like a school girl, however their fun lasted up until role call earlier morning and boy was Iviana not in a forgiving mood. Most of her knights have learned their harsh lesson.
Speaking of soldiers, she hadn't seen Quints any where this morning. Normally he would report in before meeting with the princess for her royal escort, but Iviana wasn't to worried he was bound to come barreling into her eventually. Rattling off new reports and status no doubt, she was surprised at that boys talent at keeping it together with a heavy schedule as he had. Since she didn't have anything urgent or pressing Iviana thought to herself that if she did see him she would relieve him early as a reward for the great service he was showing to the guard. Standing vigilant beside the goddess she would not move lest the Goddess choose to pick their direction, her words still lingered on her mind. She had never thought of the castle as a prison but then again she had never lived under its rules, of course she 'lived' her but she never knew what it was to be noble. They had higher standers, ones she almost wished were never put into play. Like rules of arranged marriages, who would do that to their own child, and yet Iviana could see how some would see its political advantages. It was hard when Iviana could see each sides story, she was always like this it was something her father had taught her as she was older to not be so quick to judge. Each sword not only has a blade but a hilt and a sheath, knowing when to use one or the other is up to its holder, her fathers words rang in her ear.