Here's a very special part that was never supposed to be in Sync 2, but a whole story alone. Of course, this story is merging with Sync 2 also, like a few others have. Conception and Theory was originally an RP where Pachi's two first creations, Darkrai and Vulpix, betrayed him after Pachi created something that he would never really create. It wasn't Cree, but another called Tiriell. You'll get to see Tiriell... The dragon... and Estiell... his friend... and two of his other friends... And many of his friends.
~~~~~~~~~~~~~~~~~~~~~~~~~~~~~~~~~~~~~~~~~~~~~~~~~~~~~~~~~~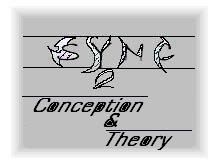 A strange world left undiscovered within Reality... Touched by the shroud of Darkness. Theory.


---------------------------------------------------------------------------
--I N T R O D U C T I O N--
---------------------------------------------------------------------------
...
...
...
...(Cruce, your good friends, the Eclipses... Are they venturing ahead? I shall watch over them. I know you will recover... Stay strong. You have the spirit. Soon, you will join your friends, and fight on the world of Theory.)...
...
...
...


P A R T Y:




(Cree - Kutzu - Safiri - Kenny)
...
-Theory, Crystal Forest.-
...
[An illuminant forest with clear blue diamond crystals poking up nearly everywhere rests in the center of an expanse of land known as the Dawning Region. It is clearly another world... The sun is setting, and the Crystal Forest is brightening with its many illustrious natural traits. It is simply magical...]
...
[The luster gateway Hideaki cast appears before a huge crystalline house. This house is constructed entirely of the same crystal seen around the lush forest. There are other houses constructed out of this crystal material however...
Kutzu: [He walks forward a little, in awe of the new surroundings.] My gosh, it's so beautiful... [He looks up at the pinkish sky.]
Safiri: It is pretty... Is this where your Creator lives?
Cree: It is! C'mon, I'll introduce you to him. He's such an adorable little character.
Kenny: 'Wonder how his creations came to betray him if he's such a "cute" guy.
Cree: I have to think about it...
[The four enter the crystal house... in the socializing room, however, they find a grim surprise right off the bat.]
Kutzu: [Gasps.] What's going on?!
Cree: Pachi!! [He rushes to Pachi, his tiny Creator. Pachi is laying prone on the ground, clearly not awake.]

~Pachi~



Cree: Pachi!! Are you with us?!
Pachi: ...
Kenny: [He runs to help Cree.] Guess not.
Safiri: What happened to him?!
...
[Suddenly, a voice...]
???: I happened to him...
[The four look around, ready to fight.]
Kenny: [He pulls out both of his pistols.] We're about to happen to your a**.
???: Ooh, a trio of new faces... I will enjoy this. Hmhm...
[A gas begins to fill the room.]
Kutzu: [He pokes his head up a little, watching the gas emit from another room.] What is that?!
Cree: I don't think we should stick around to find out. The Conception Rebellion has been messing around behind our backs! [He picks up Pachi, and runs for the doorway.] Come along, you three!!
Kenny: For now, we run.
[As Kenny speaks, bullets begin raining down on the trio.]
Kutzu: Ahh!! Up there! The second level.
Kenny: [He shields the other two, aiming up at the second level and firing randomly with his remaining bullets.] Coward b*****d. [He retreats with the two safely, not a scratch on anyone.]
...
[Outside...]
....
Cree: [Cradling Pachi.] Ohh... Phew... Looks like Pachi's not hurt...
Kutzu: What happened back there...?
Safiri: And why'd we run? We can take 'em, right?!
Cree: We could, maybe... But we might not be safe in the Crystal Forest any longer... Darkness and Conception could be here.
Kenny: Do we have another plan to fall back on?!
Cree: There is a mansion to the west of here! Another Creator lives there. He's a good friend of Pachi's, and might be sheltering Pachi's other creations. Ember, too.
Safiri: Then what're we waiting around for?
Kutzu: Let's hit the trail~! [He jumps into the air, taking flight.]
Cree: Yes, of course. Follow me. [He begins running, holding Pachi closely. The Eclipses start behind him. Kutzu's alchemy whip begins glowing, while Kenny keeps his weapons out.]
Kenny: Do we have any idea who just tried to kill us?
Cree: Not really, no! Conception is probably gathering more forces as we speak.
...
[The further they travel away from the crystal house, the less crystals there are around the forest...]
...
Kutzu: We totally lost them!
[A dark corridor appears in front of the group. They slide to a sudden stop.]
...
[From it...]
...
[A terrifying character...]
...
Cree: [He steps back once.] Darkness...
Kenny: I've never seen your face before.
Safiri: You mind telling us who you are?!
Kutzu: And where a human like you comes from...?
...
[The figure remains silent. His eyes are covered by his dark brown hair. In some ways, he is like Cruce...]
...
Kenny: You gonna speak up, or what? We can't do this all day.
...
???: [His voice is slightly raspy, but passionate. It is deep, and mysterious.] What do you intend to do with the boy...?
[The group looks at the mystery human, confused.]
Safiri: What? What boy?
Cree: Are you talking about Pachi?
???: [Instead of responding, he points at Cree... more specifically, at Pachi.]
Cree: We're taking him away from here, and that's all the likes of you needs to know.
???: I see.
...
[Silence.]
...
Kenny: Okay, this freak is pissing me off. [He aims a gun at the figure.]
Safiri: ...Who are you...?
???: No one, Safiri.
Safiri: Uh-oh... The name thing... He... He's...
???: Yes, the names. I know them. I know you. Well, it was a nice introduction while it lasted. I will let the seeds of your resistance bloom into beauty. Then it will wither. As for now, the Reaper has spoken. You may carry on.

~The Reaper~



[Without another word, The Reaper vanishes through the use of a dark corridor, leaving all four of them puzzled...]
Safiri; ...Uh, well...
Kutzu: That was totally bizarre... And scary.
Kenny: I've never seen a guy like that... Well, except maybe Idi. He's got this weird voice, though...
Cree: Never mind, he's trying to scare us. We have to keep moving!
Kenny: Yeah, yeah. Let's hurry.
[They disregard the thought of The Reaper and continue on out of the forest...]
...
...
...
--E N D I N G--
~~~~~~~~~~~~~~~~~~~~~~~~~~~~~~~~~~~~~~~~~~~~~~~~~~~~~~~~~~
Did that seem rushed?
So strange...
I could've sworn I've done all this before...
Well... save the whole Reaper thing. THAT'S NEW, BY THE WAY.