As of today I am 25 weeks pregnant! YAY! It is progressing so fast!!!
I am quite a bit bigger now and I have a bump piccie to share: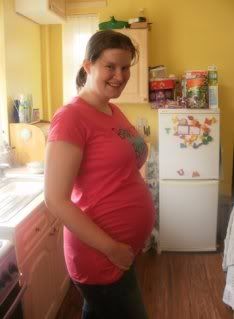 That's almost the same size as I was when I was full term with Robyn! I can't quite believe how much bigger this one is. And it's kicking me a lot too, but I like it. I haven't had any more midwife appointments, the next one isn't until June 17th, so each day is just letting the baby get a little bit bigger and a little bit stronger, but no real updates.
That's all for now!