As of today I am 20 week and 2 days pregnant, and I had my anatomy scan today! I could have found out the sex today, and as tempting as it was, I decided to keep it a secret like I did with Robyn (but I am still thinking it's a boy
xd
)
The baby was lying facing my back so it was really difficult to get a clear picture, but all is well and he is growing fine - except he has a big head and long legs
xd
xd
but I was relieved to hear everything is going ok!!
The person doing the scan spent ages trying to get a clear picture, and at one point we could see his face and his little mouth was opening and closing like he was chewing on something! It was very sweet, and he kept kicking his legs so they took ages to measure them! The little rascal.
Sadly, the pictures were really unclear because of his position: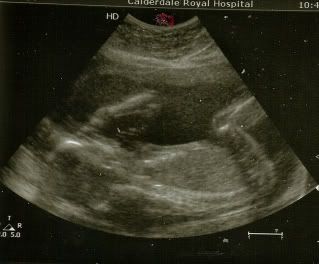 You can see the arm pretty clear, near it's head, and it's general body shape, but the sonographer wanted to try and get a clear picture of his head, but alas!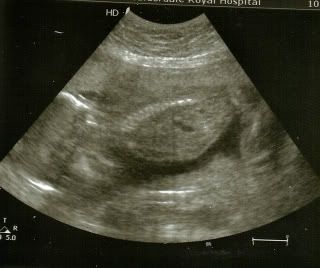 That's how he was facing, downwards, but you can see the spine with the white line along his back
smile
And as long as he is well, I'm very happy <3
It's weird to think I might not see him again now until he is born though!!! Argh! Now to get a midwife appointment sorted where I can hopefully hear a heartbeat <3
That's it for now though ^_^