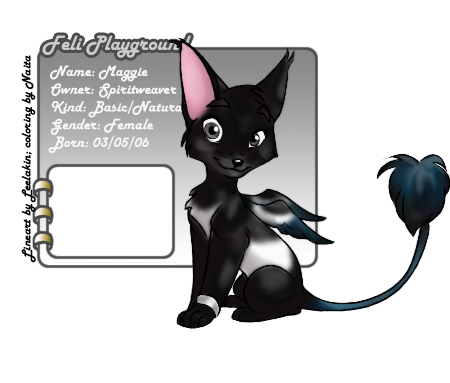 Name:
Maggie
Nicknames:
none yet
Parents:
Unknown
Siblings:
None
Mate:
Not yet
razz
Kids:
Not yet
razz
Maggie has finally escaped the realms of her bundle and is out into the open!
Feli she knows:
Daisuke/Dark
- Dark have seemed to have taken a fondness to her as a bundle, and she is often seen by Dark's side.
Cosmo
- First feli she saw when she got out of the bundle.
Racula
- Funny clumsy feli XD
Dart
- A bit moody, doesnt talk much.
The Grinch
- He scares me... o_o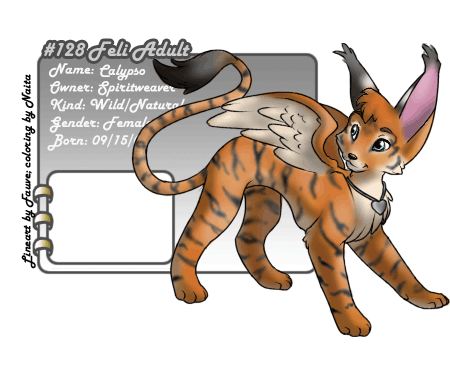 Name: Calypso
Nicknames: Cal
Parents: Unknown
Siblings: None, although thinks of Fawn as her big sister.
Mate: Nope :s
Kids: Nope :s

Calypso was a very cheeky and adventurous kit, but living in the wild grew her to be quite paranoid and skitty. She developed a very sweet nature, but usually acts quite tense and withdrawn around feli she doesnt know well. Most will rarely see her true nature.

Feli she knows:
Fawn - Calypso was brought up with fawn, and considers her almost as a big sister
Cosmo - Calypso has a crush on him!
pm me if i missed your feli out, i cant remember em all..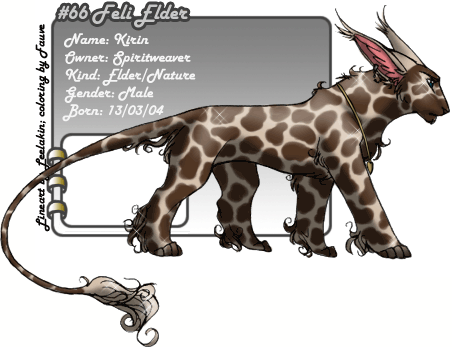 Name: Kirin
Nicknames: none
Parents: Unknown
Siblings: None
Mate: I think he is mated now, i let a friend rp him now so im unsure :s
Kids: Nope