HUGE CHANGE!
ME AND HEEBON CHANGED HUSBANDS YES~~~~~~~~~~~~
-DANCES- I GOT................CHANGMIN-KUN WOOHOO~~~~~~~~
COME ON LOOK AT THAT FACE~~~~ YOU KNOW HE'S CUTE~~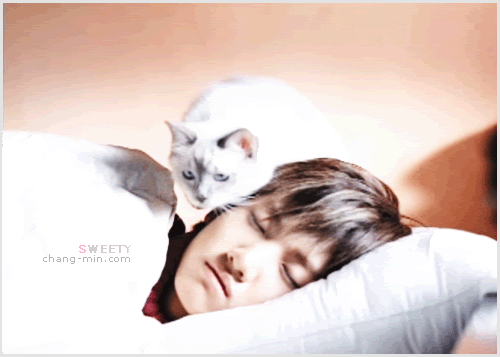 thats how he's woken every morning.....or by my singing~~~ the usual morning
the cat Yuki always walks over his face i just sit there in the chair closest to the bed and watch changmin until he wakes up usually wait 10~15 mins not very long.
Well, G2G time for dinner! Shrimp Tempura and Strawberry Milk Tea!!!!!
SHRIMP TEMPURA
BUBBLE TEA (the black things are tapioca pearls the best part!)