Just wishing a happy Valetines Day to all my friends!
Handed out gifts on my thread, got my avatar looking all Valentine-ish, and I've sent out my random Valentine notes for the event!
Plus, Tom is pampering me today, so I am extra happy!!!
AND - look at this art!!!!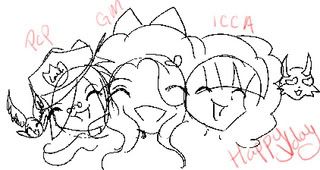 It's me ((in the middle in my Valentine avi outfit!) with my gaian friends PrivateCreamPuff and Iccolo!
It was made by PrivateCreamPuff! Thankies!!!!
heart