I was just commenting on Tempys profile, when I look at the comment below mine, and there I see this art posted by Kori26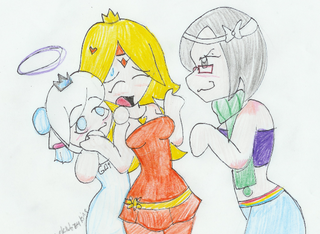 I was a little shocked. I thought, Hmmm...that avi looks like mine? I've never spoken to Kori...and she is posting art with me in it. It was a total suprise!!
She ordered it from
KatzyKins
to show how sometimes Tempy will hide behind a friend when she gets shy or scared. I'm the friend in the middle xD Temoy is behind me, and Kori is after Tempy!!!!
blaugh
I just love the expressions. I have to say, it was one of the randomest nicest suprises I've had in a while ^_^
Just HAD to share it
heart