I've been making a ton of avatars recently. Here are the latest ones, in order of when I made them.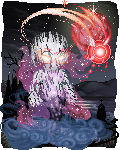 This was inspired by the description of Gaia's red butterfly item. It's a pretty surreal looking avatar, and I'm very pleased with how well the lotus and carol auras drain into the scarlet sprite. The only thing I'm particularly displeased with is the sheer amount of cash shop items I had to use to create the effect I wanted, as I would've preferred to have used less. I'm also a bit bothered by how noticeable I feel the furugasa leg is in it. I suppose that's due to the same reason I had problems with the leg area of my rat kind avatar: because I know and can easily recognize what item I used there.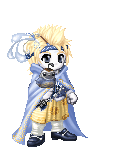 This was a very brief toss on avatar because I finally got my quail plushie. It's not a particularly good avatar, but it's not my worst ever, either.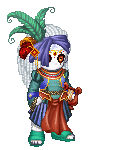 Now this avatar, I'm very proud of. I used two of the more difficult items to make work, the Jinxi's Charm and Infernal Spirit, and I think I pulled it off damn well. This is an avatar that I feel has a lot of personality and originality; I've never seen anything quite like it before. I'm still a bit torn about what exactly to call the avatar. I think gypsy is pretty apt, based on his attire, but calling it a bard wouldn't be inappropriate either. It doesn't particularly fit into either of my two usual styles, but I still think it's a pretty representation of how I make avatars anyway.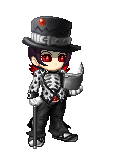 While the previous avatar was a bit of an odd ball for me, this one isn't. I love creepy avatars, and the ribs on this one are just great, and I hope the main focus of the avatar. I'd say a good name for this avatar is "Spare Ribs," and that he's an organ salesman - his own organs not excluded. This went through a few more changes since completion than my avatars usually do. I added gloves, changed from a sash to a belt, and changed the shoes.