CODY: You're sooo nice. You're really funny, and know when I'm feeling down. You're one of the only ones that can tolerate my annoyance. You love everything about me, and I love everything about you. You treat me right. And you make me feel good about myself. You and I share a LOT in common, and you are really funny, and I'm glad that I can make you laugh when you feel down. Getting a detention for saying: "I'm going to beat the s**t out of you with a chain" to a tiny n00b, was awesommmeee. You give me butterflies in my tummy every time I talk to you. You make me blush too much. I hope you return from Texas soon. Then, I can tackle you before you can tackle me. lol. <3

NICK: You are a very good friend. You're very short, but that's alright. You give big hugs for your size. xD Your hair takes forever to grow back. I mean, you got your hair cut a month before in this picture, and it's just now half way grown back. Anyways, you are very funny, and random. But you're quiet around others. D; You are soooo adorable! lol. Next time, when we're in Home Economics, we will have to use our ninja skills, and our weapons will be nickels and rubber scrapers. xD Of course, Missi just had to get me in your picture. ;D

DERYCK: You're crazily funny. You're really wild. You're X-TREMELY nice. &3 I loooovvveee you. You are right there by my side, and you're the only one who's nice to my brother. You treat me with respect, and you're always warm...I've noticed that. xD Your house is cool. And your puppies are sooo adorable! I'll kick any girls booty if they hurt you. When Sam broke up with me, you threatened to beat him with a shovel. haha You already beat him up with a baseball bat, straight up. I remember when I skipped the first half of school, and we hung out laying on your bed watching Jerry Springer, laughing, chilling on myspace, watching Spongebob videos. Then you kept saying : "I'm OLD GREG! LOOK AT OLD GREG'S MANGINAA!" Made me lauggghhh. Then you walked me to school. We always get into some serious s**t together...like when you decided to climb the corner store and walk on the rooftop...yeah....that sorta...wasn't legal or anything. xDThat was funn. &33 And we talk on the phone a lot. We usually surf youtube, and watch turtles dance to "This is why I'm hot" and we usually sing along to the rap songs. xD I was laughing so hard when you were singing Don't Cha...you are the LAST person to sing that song. ahah. And you knew every word to it. B:&

ALEXANDER LEE (Basil. ;D): We share the same name. &:[ I hate saying our name to someone else, it's weird. You're really random and funny. You always complain about the wierdest things. You say random stuff, and you have REALLYYYY big hands, and no wrists...AND they're always warm. lol. Your hair is fluffy, and I want to pet it. ;D
You also ask me random questions, and we fear the wind. You talk bad about a lot of people I don't like, and you are like HAYYY.

ETHAN: I don't know where to begin. I liked you a lot last year. I still wish you and I were dating sometimes. That one slumber party we had at Gina's, and you "accidentally" tripped, and just happened to land on top of me, and your hands just happened to support your fall on my breasts...Or when I was giving short little Missi a hug, and I had to bend down to give her a hug, and you didn't mind looking at it while I was wearing the tightest pair of jeans, and then you didn't mind going up and grabbing it, pulling me back and moaning verrryyy loudly. That was soooo funny. Everyone was like: "HUHHH???" But, you are a really good friend. You do the party boy, and beat box thing perfectly. I LOVE IT! xD I remember, you and I had our "happy time" and you lit yourself on fire, and it like glowed. xD And you whipped condoms at me, and I shot them back at you, and then we pwn'd at guitar hero. xD Your dance moves are really fun to mock. I love how when you ask somebody a "bad" question, and they say: "What?" and you go: "Whauuht?" That was awesome. Or that one time where we were "up there" and you were like: "THAT CHRISTMAS TREE STOLE MY CHEESEBURGER!" and we were walking to the store to buy energy drinks, and we were laughing and we were like: "Omg! Our legs are bending!" and the cashier gave us a strange glare. It's fun going to shows with you. We're dancy all over the place. :]

WHITEY: You're so cute! xD And funny and mean at the same time. You ALWAYSSS smell good, and we always try to hook eachother up, and talk about our relationship problems. I LOVVEE YOUU!! You're like a brother to me. &3 I got your back, and you got mine. &33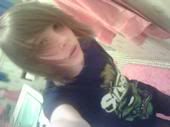 MATTY MATT!: You are one of the nicest guy ever. You have theee most awesomest hair. &33 You are uber funny, especially when you're random. We both LOVE Pokemon, and I'm drawing you Pokemon all the time. &3 You make me famous! xD You're not afraid of what people think of yourself. You always stick up for me, and talk bad about people. So many girls try to rape you, but I won't allow it. &3 So we mess with them and say wierd things...like..you having both a p***s and a v****a. xD

CRAIG: You are the most awesomest bass guitarist ever. &33 I'm always telling you what band you should be in. xD And I'm always going to your shows. You give the biggest, bestest hugs ever! &33 You have A.D.D., which means your hyper, random, and childish like me.! &33 Your smile is teh secks. You're wayyyy too tall. Fer realz, d00d. I'll saw off your legs with a butterknife if you don't shrink. lol. I love speaking ghetto with you. LMAO.

BECCA: You are very random. You shout sexual things a lot, and it's funny. We joke around a LOT! xD I can trust you with anything, and you're the first one I tell about something. You always got my back, and I got yours. &33 I LOVE YOU! &3

GINA!: We've only hung out a couple times, but they were funn. xD We're like clones in a way...except..personality wise. lol. You and I listen to the same music, and we have the same taste in flavors and fashion. &33 I'll curbstomp anybody who hurts you, and you'll PWN anyone who hurts me. &3

TERESA AND MEGHAN!: Non of us are related. But we're such good friends it seems like we're all sisters. We agree on EVERY subject, and we're all very random and giggly. Battle of the Bands was so much fun. lmao. We need to chill again sometime. &33 I love you guys.
KYLE: You're my favorite cousin, and I LOVE YOU!! &3 You're the only one who accepted me for who I was. Your dad is a d**k when it comes to not coming at the right time to visit. I'll have to whip him with a wagon for that. &33 I can tell you anything, and you always make me laugh. &333
ERIN JO!~: You're mah best buddy! I saved the best for last. I love you so much. I miss you too. You're my number one. &3 We act almost the same. I've realized we had a similar laugh the first week we chilled together. I remember Marissa trying to copy us and break us apart, but we never let that happen. I love you so much. You LOVE System of a Down, and System of a Down was the start of our friendship..well..more of Serj and Daron, lol. I'll never let anyone hurt you. You've been my friend since 7th grade..but it feels like we've known eachother since the beginning of time. I'll never grow old of you. We always have our laughs. We are A LOT alike. Some even say we look alike. It's been really hard in school and in life without you there. You're probably the only one I prayed for. Ever since the accident, I've been more cautious than I ever was. You've never seen me cry, but believe me I do. At this moment typing this I am. Please get well soon...like..tomorrow soon? &3