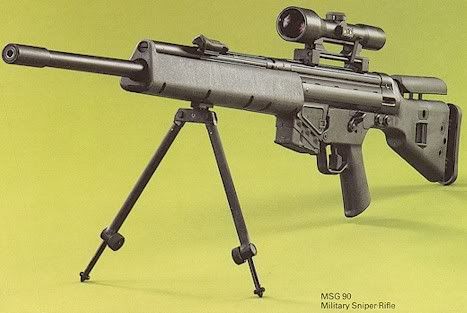 Caliber: 7.62mm x 51
Design Objective Semi-automatic rifle for single fire
Operation Recoil-operated delayed blowback bolt system, firing from closed bolt position
Barrel Cold-forged, quenched and tempered barrel, 600mm long
Trigger Standard trigger with a constant trigger pull, approx 15 N
Vertically adjustable trigger shoe for widening the trigger
Stock Butt stock with lengthwise adjustable butt cap and vertically adjustable cheek-piece
Sights Telescopic sight mount for different types of daylight and night sight featuring STANAG fitting dimensions
Magazine 5-round or 20-round magazines at option
Features Handguard with T-way for fixing a firing sling or mounting the bipod
Used by Karasu.

The .45 caliber HK USP handgun has a twelve round ammuntions clip, semi automatic firing, is 1.26 inches wide, 5.55 inches tall, 7.87 inches long, and weighs 1.74 pounds (without the ammunition clip.) It also sports a HK Universal Tactical Light, mounted infront of the trigger guard. Used by Karasu and Viric.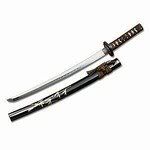 This is a smaller version of the Japanese katana. It is forged in the same manner, and just as strong. This version is easily concealed, as opposed to its full sized counterpart. Used by Viric.

Just a normal little dagger Karasu carries around, instead of a combat knife.
Great sword. Don't have a picture yet, cause apparantly weapons like this arn't very common. It has a midevil styling, and is larger than the sword used by Cloud in Final Fantasy. Hope to get a picture up soon, if I ever find one. Used by Ryusho.