1st REVIEW!
2nd REVIEW!
3nd REVIEW!
Aeternams first Review

Game Type: Simulation
Players: 1 player(s)
Online interface: none
Console: Nintendo DS, coming soon to wii
My personal rating: A-
In this game you are young surgeon Dr. Derek Stiles who has just started out at the hospital
At first you get a lot of help from the nurse as to which tools to use and when,
but soon it is up to you to remember the procedures without much help.
I think this game was a great way to utilize the touch screen and stylus
The only thing that I don't like about the game is sometimes the nurse interupts you
while you are in the middle of a procedure. This can be very annoying
especially if you are in the "zone".
All the procedures are timed so you have to be quick and accurate in order
to get a good score. However if you aren't able to complete the operation
you are able to retry it. The procedures get harder the farther you get
in the game.
You also have a chance to up your scores in challege mode. Here you can
retry procedures you have already done to hone your skills.
Here is a screen shot of the game.The top half of the picture is shown
on the top screen of the DS. The bottom part is shown on the touch screen
enabling you to directly work on the patients.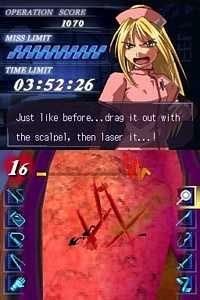 I definitely reccomend this game if you ever want do to play doctor,
but if you are somewhat impatient and get worked up easily then this
game is not for you.
here is the Pick like always!
BY Aeternam