1st REVIEW!
2nd REVIEW!
Sorry I could not resist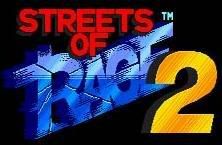 Game Type: Side scroll
Players: 1-2 player(s)
Online interface: none
Console: megadrive(genesis), game gear,

Graphics: 3
Game play: 10
Sound: 1
Story: 2

Favourite character: Blaze Fielding
Favourite line: N/A (no dialogue)
Review
Well I could not resist writing a review for my favourite game of all time even more loved then the mighty resident evil
eek
Streets of rage or Bare Knuckle as its named in Japan is one of the classics. There are very few people who I know who do not remember this classic side scrolling action packed game although the graphics are dated and the sound is verging on funny the game play more then makes up for it as you spend your time beating the crap out of thugs and bandits and thugs. The game only gets better when another player joins the fun. A sentimental moment is when me and my brother spent hours just playing this game and we even learned of a cheat to make the game more difficult. As you can tell I am completely in love with this series especially streets of rage 2.
Streets of rage 1 was a lot poorer in comparison mainly due to its small amount of characters.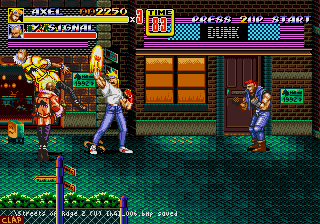 Characters
Axel Stone
The main character in the games. He is part of the police force in SOR 1 and 2 but quit in SOR3 to open his on Dojo he is a powerful character and an all rounder.
Blaze Fielding
Like Axel she was part of the police force but quit after the 2nd game to become a private detective. She started out as all female characters do, weak but fast. She then became the all rounder
Adam Hunter
The 3rd member of the police force. However, Adem was only playable in SOR1 due to him being kidnapped in the 2nd game.
Max Hatchett/Thunder
A pro wrestler that helps the team locate Adem in SOR2. He is only plable in the second game but makes an appearance in the end intro of the 3rd game. The typical power player, no speed but an over amount of power with one of his moves being the most powerful in any of the games.
Eddie/Sammy Hunter AKA 'Skate' Adem's
younger brother. He appears in SOR2 and 3 he is a fast but week caricter he relies on his speed to fight
Dr. Zan Gilbert
is partially robot and fights with unique moves that are less powerful than Axel and just a little slower then Skate.
Mr. X.
the crime loard and boss of all the city. Mr. X carrys a machine gun and is the only character to carry a fire arm in SOR 1 and 2.
There are also 3 characters that are secret only avaliable in SOR3 these are
Shiva
- The body guard of Mr. X. A powerful and fast character (not fun to fight)
Roo
- A boxing kangaroo; enough said.
Ash
- I had to show you the wikipedia entry for this one it's too funny. "A minion of Mr. X and the first mini-boss you face in BK3. His character is a very stereotypical homosexual, a very feminine run, even a little 'laugh' taunt (which can still be heard in SoR3 in the sound test) and tons of female mannerisms. Because of this, he was removed from the Western port SoR3. In BK3 he drives a boat which drops off punks and afterwards jumps off to fight himself. Like Shiva, he is also a secret playable character, but unlocked by holding A once defeated. Ash's moveset is very limited, for example he has no jumping attacks, but instead his punches are humorously overpowered."
Basic story
In streets of rage 1 mr. X controls the city right down to the police force his thugs are running wild and it's up to you to put a stop to his evil plans.
Mr. X returns to power this time he has captured the team member Adam and it is up to you to rescue Adam and defeat Mr. X
Because you can't keep a bad villain down Mr. X returns again this time with more powerful minions and once again it is up to you to end his evil reign.
Axel special move: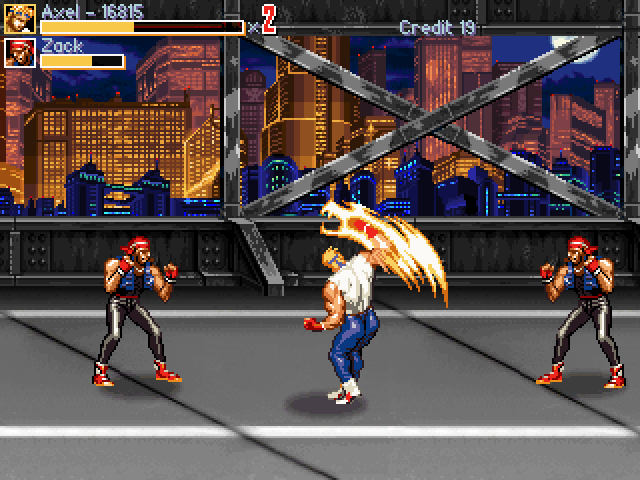 Bar fight (2 player)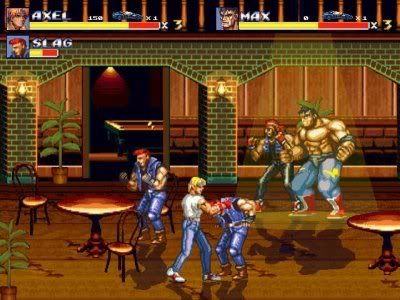 as alwayshere is a desktop backdrop
BY dr love aka DL