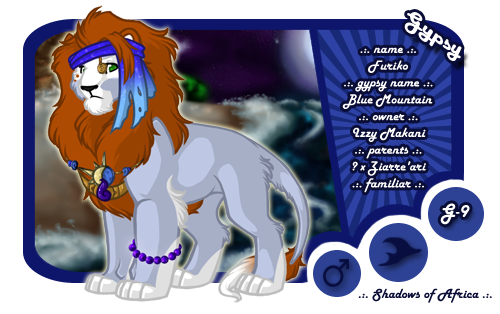 Furiko stood at the edge of the tree line of his jungle home looking out at the beach and ocean region which was also part of his home. The day was beginning to heat up. Usually he would decide whether to go lay in the water of the ocean or hide under as much brush as was possible to keep himself our of the sun. He had been here in this pride for a while now but he knew he would never truly get used to the jungle heat. He really needed to find a way to trim his fur but even if he could with his luck his fur would come back even thicker. Sometimes he wondered why he bothered to come to the jungle to find a new home but then he would remember hearing where his mother had gone and he knew his life here hiding from the heat was better than trying to make it in the Viking pride.

He was much more cut out for life here where he could at least have the option to lay around in pools of water on the beach if he wanted to inc his duties were done. After double checking his memory for things he had to do he decided to just take a dip in the ocean. He has caught his share of meat and got a lot of pride stuff done just to help out so now he was free.

He trotted out the the water and flopped down among the waves. To many the ocean waters might have been considered far too cold but Furiko just loved the feel of the water. It was wonderous. He let out a sigh of relief as the water began cooling him off.



Saint Sergio

here we go. A bit bland but my mind is shutting down on me.