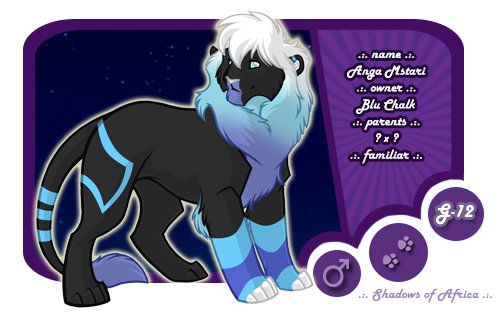 Summer time…Ugh. Anga huffed, barely. The heat blasted down and Anga could hardly handle the loss of energy. Seriously, how is it so freakin' hot? Whatever. Anga shook his head causing his mane to fluff up and drift back down with a little breeze. Not enough to cool him, but just enough to remind him how badly he needed to retreat to some shade…and a nap. Yes, a nap sounded amazing.
He scanned the area in front of him and relief washed over his body. A forest! Ah, yes! His spirits perked, Anga trotted over to the edge of the shade. He made his way to the nearest tree and plopped down at the base, allowing a sigh to escape his lips. Now this was a lot better. His mood instantly turned for the better. No more rays scorching his back. Maybe when it gets cooler outside, he should head to the snow lands in the mountains? But wait a minute… wouldn't that mean it was too cold? As much as he hated the heat, he hated being frozen to ice. Ugh, no thanks. Welp, I guess that left fall and spring time for traveling. Too bad he was usually busy in the spring. If you know what I mean~ Anga snickered at his own joke.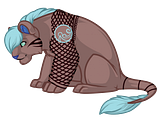 "HIYAH!" Chaska rolled around the large tree root, striking at it with his paw. Spit sprayed around his mouth, bouncing on the large leafs from a nearby bush. He spun around a few more times to make sure his enemy was confused before pouncing on the root, yelling at the top of his lungs. A bird rustled above, startling Chaska. His ears folded down in anticipation to the scolding he was about to endure. His stupid siblings were always getting him in trouble with mommy and daddy. They didn't like loud noises, but who cares! He can do whatever he wants. After a few heart beats, he spotted the bird. He cracked a grin and rolled on the ground, hugging his sides as laughter poured out of him with relief. Stupid bird! He thought it was mommy and was about to put on his best guilty face. Anything to keep from going back to the den. Because of his cleverness, Chaska was able to slip away while daddy was trying to break up his two brothers fighting. Mommy went out for a gathering, being important and all, so that left daddy to watch the cubs. Daddy was too easy. Chaska let out a whoop of pride at his sneaky accomplishment. Now… about that bird. Chaska rolled back onto his feet and shot after the fleeting bird. It weaved through the lower branches, heading to the thinning trees.