HEY GUYS!
Let's start this party with a contest!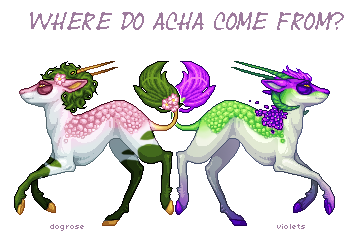 Tangled Web loves stories. He started a tribe just to meet more kin with more stories. The Kimeti is hoping to chronicle the history and legends of the swamp. One of his favorite stories as a foal was the creation of Kimeti. It's well known that Kimeti hatched from an egg laid by the motherfather… but where do the other kin come from? He just had to know! This is why he turned to you.

"Where do Acha come from?" It was a simple question, but at the same time, it wasn't.

-----------------------------------------------------------------------------------

That's right folks, it's time to make up a creation story! Where do acha come from?

… Of course, everyone knows that there can only be one 'true' creation myth. The winners will be the 2 most entertaining/believable/outlandish/amazing-fries with a side order of awesome-sauce stories. Tangled Web will 'decide' which story is the true story.

Are acha from one of the 5 eggs laid by the moterfather? (If so, how/why did they leave the swamp and end up in the desert?) Did they spring up from the sands of the desert? Are they rocks? It's up to you to tell the story.

Rules galore!
1: Stories must be your own, original work! You can take ideas from creation stories around the world, but you gotta write your own Matope-friendly version

2: This is my favorite thread in the guild. It has some more detailed information on the different kin and even touches on Matope's mythology. Read it. (It's in the rules, now you gotta ;D )

3: Keep stories in character. The acha you're trying for is the one telling the story. Treat this as you would any other story or RP and follow the guidelines and standards for RP

4: You can only enter for one Acha. No preference list, sorry

5: Please use the code provided for your entries.



[align=center][color=orange][b][size=20]BEDTIME STORY[/size][/b][/color][/align]
[b]Username:[/b] (You)
[b]Acha:[/b] (Dogrose or Violet)
[b]Name:[/b] (of the acha)
[b]Short personality:[/b] (10 words or less)
[b]Story:[/b]




THIS CONTEST ENDS JULY 27TH @ (or around) 8PM PDT/ 11PM EDT
(It'll end when I get home from work)



I RESERVE THE RIGHT EXTEND THIS CONTEST IF I'M NOT SATISFIED WITH THE ENTRIES!



If I'm not happy with the stories, you will be allowed to revise your entry.