Name: Pretty Young Thing
- Nickname: PYT, Pyte
Gender: Female
Type: Earth
Body
- Primary: FEF9AA (main body color)
- Secondary: FCF557 (blanket, hooves)
- Chunky! Round face, thick legs...girl's got some curves!
- Freckles on her face.
- Fetlocks on feets with hooves showing
Eyes: B3793B - big, round eyes
Hair: FAF6EB - short, but fluffy. Reminds me a bit of sheep's wool.
Cutie Mark 8D: Pale pink flower, folded up and not yet blooming
Brief Character Description: She would have made a great cheerleader, really...but that's a little too much spotlight for her, thanks. Pyte likes to encourage other ponies to try new things, especially when they don't have the confidence in themselves.
+ Ref pics where possible: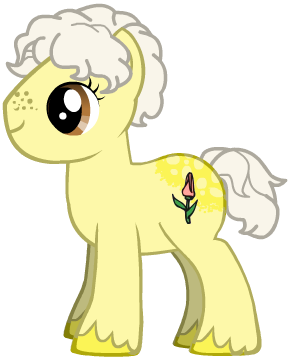 base from GeneralZoi's MLP on dA, rose image from google w/ color edit by me.



Fireflight: From her description she sounds normative, but just clarifying some aspects:
1. What is 'secondary body colour' referring to?
2. How accurate is the reference picture? The freckles are alright, but feathered fetlocks for girlies are non-normative. Let me know whether you actually wanted them or it's just from the base.

biggrin You have no idea the amount of joy I saw when the title said QC DONE! Thank you so much!

As for the questions:
1. Second body color refers to the blanket on her butt, as well as her hooves.
2. With that in mind, yes the ref is accurate and I'd like her to have fetlocks. I'm sorry I didn't think to mention it earlier in the form. I've added that to hopefully make it clearer. I understand these things will make her non-normative. :3





Fireflight: I can't quite see the blanket clearly on her ref, is it like a doiley or just a solid rump blanket? Please clarify when possible.
Truth be told, we would really like to lean away from girls having fetlocks - it is highly non-normative. Your quest is QCed but please be warned the fetlocks will influence our considerations. Sorry about that!
If you'd like to change it, please ask for QC again.

The current design is approved conditionally, which is to say only for special customs [laddered auction/RLC or where stated], due to her extra body markings and fetlocks.