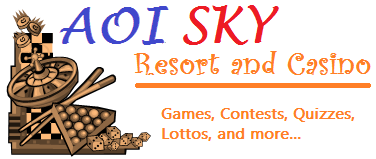 Welcome to the Aoi Sky Resort and Casino Subforum. In this subforum you can create a variety of word game and entertainment topics. I know you don't like rules but since this is a subforum and not the main forum, a small amount of rules are essential.
Some examples of the variety of word games and topics that you could create include:
-Word Game Topics that involves you doing something (Ex. Avatar above you games)
-Quizzes
-Contests
-Lottos
-Any other kind of game-related thing you can think of that involves you to do something that is fun.