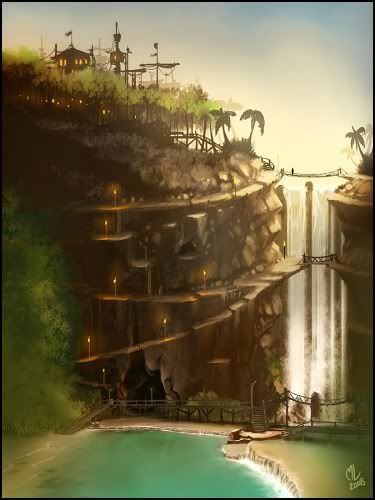 Pirate Cove
to Pirate Sanctuary, where all Pirates be safe, or atleast safe from the Navy. To get in to this Cove, you must leave your ship at the "Harbour" and make your way through the Pirate security, after a dfew visits this process vanishes as they get to know ypu very well. The "guards" tend to accept bribes allot, as well as bribe to extra prptect you ship. Here Pirates have a society or what they call a society, all there really is, are a few "Hotels" and many bars and barters. What this place be famous for is it's Prison and dungeon system, of course, as well as it's climate it tend to rain more than it does remain dry and it tends to stay night much longer than it does day. Now onto the Dungeon.

Seeing as the owners of the Dungeon are Pirates themselves, they understand hating to be locked up so they decided, that they would throw the people in to the dungeon with all the equipment they had upon their person minus 75% of their gold, and the people in the dungeon are given the chance to find the one escape route within the dungeon. There is only on and it has been reported to take at least three days to get out of this place if you find the right way, as the walls are always moving so being thrown in here a million times still feels like being thrown in here for the first time. Once you have escaped your name goes on a sort of leader board and a party is thrown to celebrate the escape, the sign of a true pirate.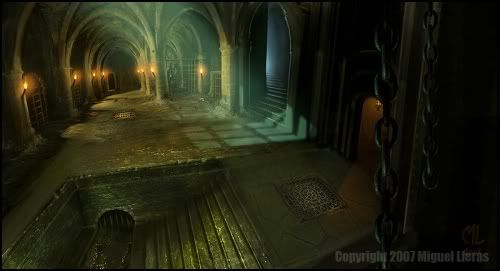 The Dungeon System:
Very Simple!
To escape this prison simply post either a minimum of 15 parapgraphs searching for a way out, or a minimum of 15 posts.

If you have a party of more than Two people, then each member must post at least 8 posts each, not paragraphs but posts.

You may of course go over, and being thrown here is all your choice by using NPCs, something to consider if your bored or want to build a back story for your character('s).