Our goal here is to teach, learn, and celebrate!
Here is a place for all kinds of people from all kinds of backgrounds to
unite
and discuss Wicca (among many other subjects) in a
friendly
,
informative
, and
exciting
environment. You are incredibly welcome to join us, even if you are not Wiccan!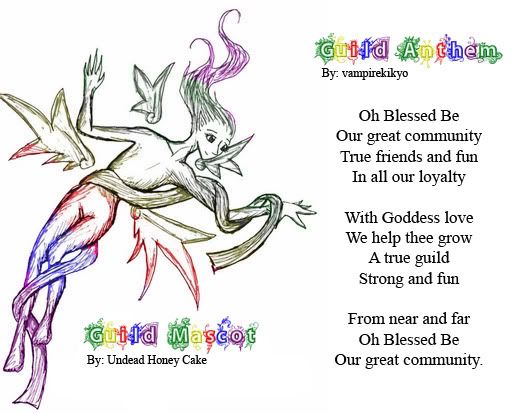 1. Please, be sure to read the entire
homepage so you don't miss anything.

2. Be sure to include in your request
what our instructions for donating to
the guild are. (Located at the bottom
of this page).

3. Feel free to tell us a little bit about
yourself if you'd like to.
(age, nickname, hobbies, etc).

4. Please, make sure that your profile
is open to the public so that we can
process your request quicker.

5. If you're joining on a mule account,
please let us know. Please note that we
do not allow people to have more than
one account registered in the guild

The Academy - classes, guides, and how-to's.
Guild newspapers with informative articles, such as Elements, Animal Totems, Mythological Creatures, etc.
The Library - spells, rituals, and useful information. Special features: Blessings Tree, Recommended Websites and Books, etc.
Games and Contests - Monthly Lotto, Dicey, Copy Cat, etc.
Frequent celebrations - Sabbats, Anniversaries, major accomplishments, etc.
The Moonlight Market - member junk shops, services, and charities.
The Sitting Room - birthday list so you can get gifts on your special day, member name's list, bump thread, chatroom.


Friendly, happy to help members and a dedicated Mod Squad.


Useful topics - All Things Altar, Dream Help/Chat, Paranormal Help/Chat, General Q&A, etc.


Frequent updates and incredible activity!



Instructions for donating:
Do not donate using the form below. We can only use it for sub-forums, and we've got enough of those already! gonk If you'd like to help us out, please donate to The Blessed Mule (who is our guild mule, if you didn't guess). This means that we can use the money for prizes for awesome people like you! You do NOT have to donate to join the guild. It's optional.
Please Note: Sending a donation to the guild before your join request is accepted will not have any affect on whether or not we accept your join request.