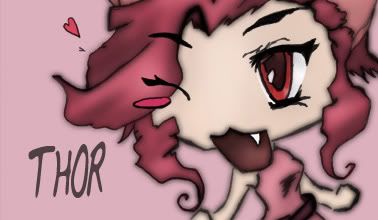 (thank you all for making these banners! heart )
Old Guild Link
Welcome to THoR, Formaly 'The House of Romance', however since becoming a registered guild the romance has gone out of the house, and we are now solidly a roleplaying guild. Now don't fret non-rp fans although that is the heart of THoR we're trying to add more and more to the main forum that's non-rping forum goodness so. Introduce yourself, browse the threads and join in! Warning: Your sanity may be at risk.
(Newbie friendly guild... ask us we'll help you out!)
*Edited by Taru Shinjaria 3/15/06
Welcome guest to my house. I am your hostess BlackMN. Here we have everything your heart could desire for a perfect date or friendly outing with someone. We have spacious grounds, perfect picnic areas, a grand view of the ocean, a large swimming pool, hot springs with places you can hide in from everyone else, grand lounging room, an arcade complete with DDR, miniature golf, a theater in the mansion, large library, bar, sauna, fine dinning, and so much more. Every guest or couple has their own room. Pets are allowed as long as they are house broken. We also have a kennel if yod like us to take care of them. Warning confusion is guaranteed to new members and not so frequent visitors, as certain active members like to role-play a bunch here.
Affiliated Guilds