=

.:

W

e

l

c

o

m

e

t

o

t

h

e

S

h

o

u

n

e

n

A

i

a

n

d

Y

a

o

i

G

u

i

l

d

:.
Welcome to our Guild. We pride ourselves on being open, organized, and intelligent in our squeeing about our favorite topic, Boy Love. If you want a place to get together with your fellow fans and discuss our common interest, you've found it! Please read on to learn about our guild. Pay special attention to our Join information, it can mean the difference between you getting in immediately and having to wait two weeks to resubmit a join request.
.:What are Shounen Ai and Yaoi?:.
They fall under the category of Boys Love, which is as easy as it sounds. Boys Love is about boys in love with other boys. Here at SAY, that's what we're all about.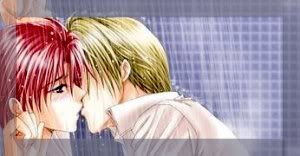 This is
Boy Love
. Shuichi and Yuki from
Gravitation
.
.:Rules:.
Our Guild has a
Constitution
, which consists of numerous rules and guidelines to help everyone enjoy themselves to the fullest. Please read them carefully before joining. There are also various stickies in each subforum to further explain each section.
.:Join:.
If you are interested in joining, you MUST read our
Constitution
. When you send in your join request please include a short explanation as to why you want to join the guild. This can include, but is not limited to, your introduction information, why you like yaoi, and why you want to be a part of this guild. A sentence or two is all we ask, and no, "I LOVE YAOI ITS SO HAWT" is not what we're looking for. You will be rejected. Please include the super secret password 'BoomBoomKimblee' somewhere in your join request to show you've read this.
If this password is not provided, your request will be denied.
If you think you're ready to apply
click here
.
If you get rejected, you will have to wait two weeks to reapply!
There is no way around this, so be sure you've read everything!
.:Affiliates:.
Let's join together and support each other! Post a banner of our Guild on your front page, and we'll do the same for you!


.:Testimonials:.
H i K u

Hello! I must say that I'm very impressed by The Shounen Ai and Yaoi Guild. I've never come across such a well organized guild before, especially one that's relevant to my interests. I'm glad that there's rules and structure to keep balance, making the members more comfortable.