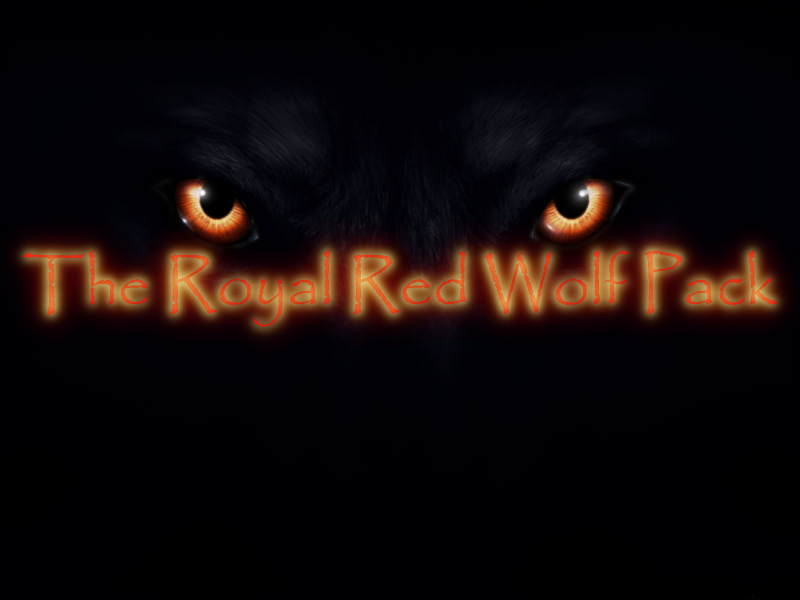 ★Welcome★
This is Royal Red Wolf Pack. We are one of the top wolf packs so we don't just let anyone join. You have to learn to do things our way. Please read the rules before joining as we don't want to have to ask you to leave. We encourage anyone to join the Royal Red wolf pack as we are a modern, fast-thinking guild that has high quality jobs and members. Tournaments, missions, parties, gatherings - you name it, we have it! However we are always willing to take ideas from the members of our guild and pass them to the king. but we also take part in serious missions, wars, and top secret meetings. If you want a challenge, click join. We are a

team

. There is no "I" in team, and teaching you this is one of our main principles. when you join the pack you are part of the Royal Red Wolf pack, and we will give you respect. We are built on respect. That is our main policy. You have to show respect to the pack leader, which is the King, and the royalty
- Someone who has to be strong, able to kill, and take orders from their King or Queen. They are very loyal members of the pack. They need to hunt pray and in the wild catch the food.
- They have to be able to solve problems and are also very smart, sneaky and reliable. They need to be good at hiding and gathering information, and can take orders from leaders. We need them for the big missions. They need to be reliable.They need to be able to have all the news and information.
- They have to take orders, protect wolves, and have to be strong and willing to give their life for the pack. They need to be strong willed.If in war they protect royalty and basic members putting our lives before there's.
- They teach the new wolves about the rules and the jobs, they are clever and kind to people, and can teach wolves skills that we require for jobs and missions. They need to be firm but fair.
- If someone, in war or during battle, is hurt, in pain, or is injured, you nurse them back to health and take care of them. You play a big part. It's your job to keep people alive. Your have to be devoted to the pack. This is a hard job to be accepted for as there dose not need to be many Medics. So you better work hard to become a Medic.
~♣♣★Dress code★♣♣~
Males human form Males are to be topless showing there chest and have jeans. Males are to have short hair and normal color eyes, a sword or weapon and black shoes.
Females human form Females are to wear dresses or skirts they must have a color them so they look part on the same tribe, they must look feminine and pretty.
Wolf form males and females Both genders must have red wolfs and this is for fighting.
Note
If you fail to do your job, I will make you aware that your not achieving your duty. If you don't change you shall have a harsh talking to. If you have chosen to disobey my expectations you shall be demoted, if it keeps on happening you there will be further actions taken.
★

Royal

Members

★
Nelson Banyez
King- Great mighty ruler of the pack.
Master_Banyez
Lord- of the pack Nelson Banyez father.
AnjelsBones_Banyez
Prince- Son of King Nelson Banyez.
Grimalkin Banyez
Princess- Daughter of King Nelson Banyez (Grimalkin's birth Mother unclassified)
Royalty and family members have "Banyez" as their surname. Being a "Banyez" means you're part of a family and you're a person who will earn many important values. The "Banyez" has been passed down through generation to generation, we hope to carry this on. In order to become a "Banyez", you must earn your right as part of the pack, and the King will give you your "Banyez" name, only then is it valid.You can become a "Banyez" and it can also be taken away from you.
Rules. (You. must. follow.)
-
Be kind to people, don't be mean and don't say things that are rude or offensive.
-
If you are asked to help by Royalty, you help them.
-
Submit to Royalty, Do as they ask.
-
Respect must be shown all the time, no rudeness towards anyone, in this guild or out this guild.
-
You must have a wolf or you cant have a job/duty.
-
Complete your job(s) to our idea of perfection.
-
You can not be in the guild if you are in other packs, unless I give you my permission.
-
Don't start fights with other guilds, because we want to prevent war.
-
Please
don't use the Lord's name in vain, for the sake of our religious members.
-
Have faith in our wolf pack; we can only do well if you believe.
-
When in a room with royalty, you *Bow* to show respect, starting with the King and queen, then with the vice captains and princes and princesses.
-
If you get into fight with other members of the guild, we would like to hear about it straight away, so tell the vice captains, and they will come to me or sort it out. If you do not confront the situation, this can lead to bigger problems, and you may be asked to leave the pack.
-
If royalty or a vice captain gives you a task, there is no high way option, and you do it the way we want it done. Our decision is final.
-
You have to be able to die for your King in war or at any time of the day, but not in vain.
If you fail to follow the basic rules, you will be given a warning and asked not to do this. If it carries on happening, there will be punishments due to how bad it is or how little. It will be discussed by the King, and he has "the last word."
___ACHIEVEMENTS___
We have had achieved amazing this this year, here are some things to be proud of.
Established on November
Total members 35 member.
Guild account 215,761
Total post 238

The reason we are so outstanding as a guild is because of you. So be proud of yourselves. We can only get stronger, you all serve a big purpose. The people are who make the Royal Red Wolf Pack, so be proud of you achievements. The amount of progress we have made is mind-blowing. There are always things to improve on thought.Set yourself a target and try and reach your goal. We have lost battles this year and lost members,hold on to what weave got, and be positive!Thanks everybody for you effective feedback, activeness, patience and helpfulness.I am proud of all of you and you should be EXTREMELY proud of yourselves-for belonging to The Royal Red Wolf Pack!▲ That is now you status!



★Allies of the Pack★


₹﹅𝕽oyalty 𝖂olf 𝕻ack﹅₹

Royal Lone Wolves

==Le Royale Wolf Clan==

Blue Royal Moon

Twilight Rain Wolf Pack






We have events and mission they are very fun,yet they cost a lot of money. That is why we sometimes need the money for our guild,

not

because we want it for ourselves. Coming up soon, there will be more events, and we will sometimes do them with other packs. This is one of the awesome things about us, and we will keep you up to date with these events. Sometimes we will charge you a small amount of money. On the forums, there is a topic called 'how to make the guild better for the good' you can write ideas about what events you want to do.



★Where and When We Meet★


Hello, when we meet I would like everyone to be there. sometimes this is not the case because of time zones, but I will try to keep you up to date with events and sometimes I find it hard to make it, but I try my very best. I would like it if we all tried to get there on time and be involved in the pack.But you do have to try if you don't turn up to any of the events, you will be asked to leave or we will not be happy,but I am sure everyone one will try.

Note If you fail to turn up a number of times, without talking to me about it, and you keep on missing them, I will be very angry with you... and it wont be pretty!


Sign up for classes so we can teach you how to attack, how to do jobs, how to work on a guild, how to improve your rank, and teach about the loyalty of a wolf. The first few lessons shall be free, but when you need to learn hard things there will be a fee of each lesson.
Price 5,000g. All this money will go to are guild so that we are making our guild better and stronger in time. Thanks.
We do not teach people who do not listen.



★Saying and quotations that you will hear me say.★

With power comes great responsibility.





Sometimes you can leave a place and find that the only thing that has changed after all the years is yourself.



"I learned that courage was not the absence of fear, but the triumph over it. The brave man is not he who does not feel afraid, but he who conquers that fear."



From the poorest of countries to the richest of nations, education is the key to moving forward in any society.





A lot of people find it easy to be pessimistic and think of the negatives that can arise out of a situation.

But in this quote, Mandela shows us that thinking positive is the only way to go. The more positive you think, the more positive the outcome will probably be.





Thanks, from

King Nelson Banyez



©copyright, limited any Copyright may not subsist in a name, title or phrase. …. Criminal Offences contrary to the Trade Marks Act 1994 (TMA) …. a gain ( effectively stealing the intellectual property.Subject of the matter will hereby subdue payment of choice of estate