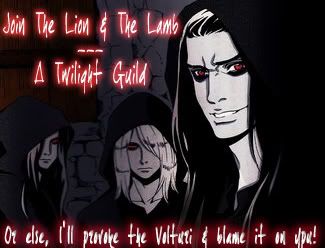 The

Lion

&

The

Lamb
Welcome to The Lion & The Lamb, a guild based on Stephenie Meyer's best selling saga, Twilight. This is the perfect place to hang out and chat to fellow fans. We encourage you all to role-play, BUT THIS IS NOT A ROLE-PLAY BASED GUILD!, we have a seperate sub-forum for role-playing. Contests & Games, Random Forums, Character Forums, Movie forums and more are found here...
- - -
"And so the lion fell in love with the lamb...," he murmured. I looked away, hiding my eyes as I thrilled to the word. "What a stupid lamb," I sighed. "What a sick masochistic lion," he muttered to himself under his breath, shaking his head.
- - -
Join Requests
In your join request, please add the word "mind," to show that you agree to all guild rules and have read all of this page! Write a little blurb about yourself and Twilight, just so we know your a lover and not a hater! And, also, please don't go on like - "Ohh, I LOVE twilight and I love it ive sen the movie 9999 times. And Edward is sooooo hot!!!!!1! IF you do this, or anything similiar, you will be denied.
Rules
1) Do Not Criticize these books, this is a guild of sharing the love for Twilight.
2) No Trolling.
3) No Spamming.
4) Follow moderator's orders.
5) Follow these rules!
Made by

BellaSwan3


Guild Owned by

CarlisleCullen15


Banner made by

Alice Marie Whitlock