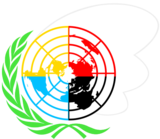 There was once a golden age on Gaia. An age where everyone had three fingers, one thumb and four toes and In this age you were not judged. You were merely a Gaian. Territories were formed, races evolved and allegiances were picked. Certain advents split the populous into rich and poor, us and them.
However here at the H.U.B. we still believe in the community spirit of Gaia! This is a place where you are welcome no matter what! You can post and poll and chill out with friends in our little haven. If you want to write stories and Role Play, show off your art skills, get into heated debates about plot or simply just chat with our little community then this is the place for you. The guild grows and changes with your feedback so there really is something for everyone!
We solve things democratically here and everyone is welcome from humans and zurg to grombies, fairies and lycans to frogs and even teakettles!

We are and always will be the United Nations of Gaia!
Guild Note Please do not donate to the guild as it can only be spent on subforums. Coin Counter is our Guilds Bank Mule so please donate to that account, thank you!