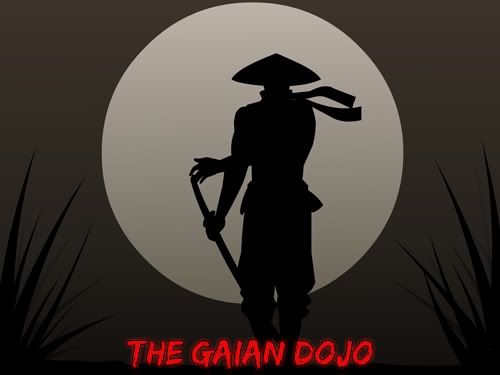 Welcome To The Gaian Dojo!
A haven for martial artists, weapons and armor fanatics, and self-defense enthusiasts, and those who just want to get in better shape.

Here at The Gaian Dojo we want to encourage you to get out there and live a healthier happier life, by getting in shape and learning how to protect yourself. Inside will be guides, tutorials, and people to talk to that can help you get in better shape and learn a little about martial arts. Hopefully we can encourage you find a martial arts studio as well, where you can learn all the aspects of martial arts. Including Etiquette,Self Discipline, Control, and Confidence.
Disclaimer

~ Though there are many tutorials contained within this guild, there is no substitute from the real thing. We hope that you go seek a qualified professional before attempting any of the martial arts or fitness techniques or exercises that you will find here. We are in no way to be held responsible for any injury or damages that might occur from doing so.



Martial Arts Warning:

Martial Arts are to be taken seriously, we in no way encourage you to use what you may learn here to start fights or harm others. Martial arts should only be used to better yourself as a person or in self-defense situations. We can not guaranty that by reading or watching anything in this guild that you will be able to successfully do so. Only a trained professional can give you the proper training you need to learn correct technique.
If you feel like joining us just send a join request telling us:
- Why you want to join
- Your background or knowledge if you have any
- How you found this guild
(You dont have to know anything about martial arts, weapons, or fitness to join we are all here to learn and have fun)