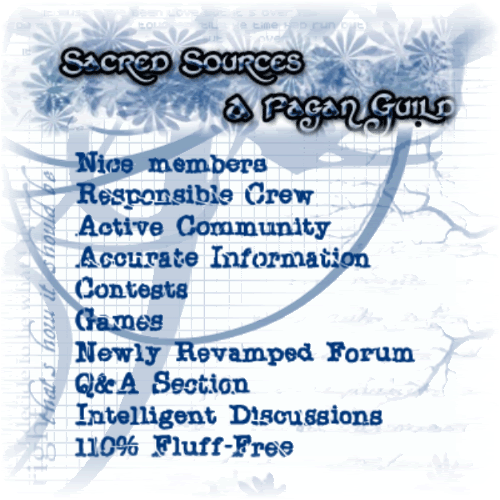 Dia duit! Guten Tag! Heil! Iiti em hotep! Ou'lete! Salvete! Merry Meet! Welcome!
We are a growing and ever-improving Pagan interest guild.
The Bare-Bones
Our Purpose: To provide a community forum and resource center for those practicing or interested in Pagan faiths.
Our Aim: To educate and celebrate ourselves and the world in a positive manner.
Our People: We're looking for individuals with open minds and interests in expanding their knowledge, skills, and understanding.
Our Benefits:
- No strings attached: if you are inactive, we will

not

ban you.
- Connection to people with similar interests
- Access to various faiths, traditions, and practices
- Ability to celebrate various guild events
If you are interested in joining our community, please follow the correct link to fill out a request form. Please give as much information (such as interests, faith following/exploring, etc.) as you feel is needed when applying for the guild.

ALSO, if you plan on joining, please, please,

please

also plan on doing your best at typing! We understand that some Gaians may struggle with the English language and its structure, and our moderators do not mind cleaning up posts. However, not only does spelling your words correctly and constructing your sentences properly make our jobs easier, but it truly does show you care about those reading your posts and the subject you're posting on.
~Blessed be and Merry part.~