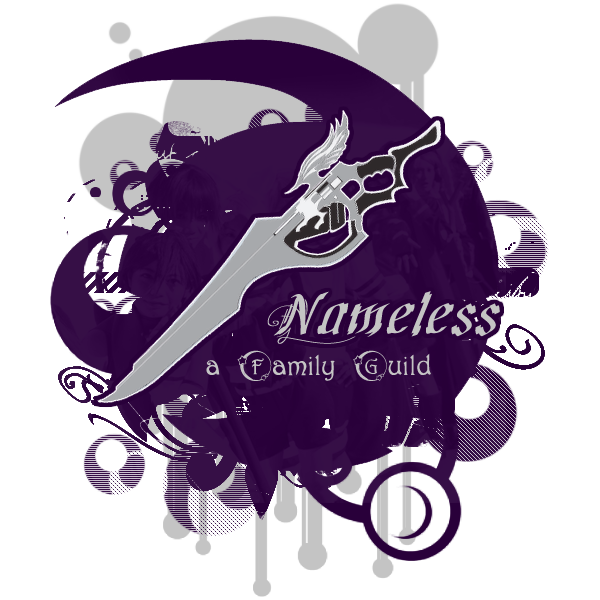 We are The Nameless.
We chose to be this way.
Names bind your soul,
putting a stamp on those who wish not to be.
However, we are stripping those bonds,
those names,
To become known again not as we were,
But as we wish to be.
┏━━━━━━━━━━━━━━━━━┓
☆ ★ ☆ Our History ☆ ★ ☆
┗━━━━━━━━━━━━━━━━━┛

The Nameless Family was originally known as EGT on a mobile social site called Mobamingle and has been around almost 5 years. The original members were Nameless Edge/Resonance, Nameless Joker, and Nameless Pheonix. The group was mostly guy exclusive, so it consisted of a few more members, who are not around on Gaia. While Nameless Prince and Nameless Ulrica have known Edge just as long as the other two, Mobamingle's shutdown revealed how close our group was, beyond a social website.

We've expanded a little in over the years, but still happy that people have taken a liking and taking the name. We're a welcoming family. Join and get to know us!
┏━━━━━━━━━━━━━━━━━┓
☆ ★ ☆ How to Join ☆ ★ ☆
┗━━━━━━━━━━━━━━━━━┛

Copy, Paste, and Fill the form below!
Username:
Username of person who referred you:
Are you a Robot?
Why do you wish to join?
Still a work in progress. We're open to new ideas for our guild.
┏━━━━━━━━━━━━━━━━━┓
☆ ★ ☆ Current Affiliations ☆ ★ ☆
┗━━━━━━━━━━━━━━━━━┛




(please do not copy the images seen in this section, these are simply borrow from and all respective copyrights go to the represented parties..)