こんにちわ。 世こそ!
And if your computer does not read Japanese... Welcome!


This guild has anything you could possibly think of. From culture and language to latest updates on your favorite band.

Our GMODs [hehehe if you take away the 'M' from GMODs ] (Guild Moderators)
make sure to keep you up to date on everything that is going on, and will answer any of your questions.

+ Teh Ninjabear (Captain)
+ Kira-nyan (Vice Captain) [Former Captain]
+ ~`Yasuo`~ (Vice captain)
+Ryuzaki (Vice Captain)
+ Found Bleeding (Crew)
+ Dir En Grey Otaku (Crew)
+ Ayena (Crew)
+ Panda_moi (Crew)
+ ReD_bLaCk_MaLiCe (Crew)
+ Shi-Tsuki (Crew)
+ serjtankian_is_god (Crew)
+ Ore Wa Saki Sama (Crew)
+ Kaoru Lord of dorks (Crew)
+ Ga Chan (Crew)
+ Devilman616 (Crew)
-->(We are currently recruiting!)<--



Each crew member is assigned a band/bands to keep track of, and is responsible for posting any updates that come along.



So, enjoy! Learn Japanese, find out something new about your favorite band, RP, just hang out and be a poll whore!!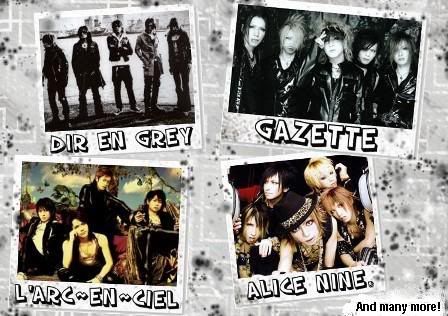 =

=

=

=

R

U

L

E

S

=

=

=

=



+ If you have a problem with someone in the guild, take it directly to the guild captain, or the Vice Captain.... with a good reason of course! ^-^
+ We don't mind cursing, but don't use it too often... (¬_¬&quot wink
+ Please, if you are doing a yaoi RP between your favorite J Rock couple.... Just don't get really into it.... 「Butt Sex」(-_-&quot wink
+ Have Fun!!
+ Ohh and don't forget to fill out the 'Introduce yourself'





=

=

=

=

T

O

J

O

I

N

=

=

=

=




+ Write in your application "peanut butter and jelly sandwiches", so that we know you read this whole thing.
+Name ?
+What is your favorite band ?
+How long have you been into J Rock/Visual Kei ?
+Do you think of possibly becoming a crew member, and why ?
+Will you be active in the guild ?




=

=

=

=

O

u

r

F

a

b

u

l

o

u

s

G

u

i

l

d

B

a

n

n

e

r

s

!

=

=

=

=




[url=http://www.gaiaonline.com/guilds/index.php?gmode=index&guild_id=34437][img]http://i14.tinypic.com/54jvj2c.jpg[/img][/url]
[url=http://www.gaiaonline.com/guilds/index.php?guild_id=34437][img]http://i167.photobucket.com/albums/u131/inui_schu_luv/skittlesmiyavi.jpg[/img][/url]
[color=violet][b]J-Rock Flavored Skittles!! Click to Join the Revolution![/b][/color]

[url=http://www.gaiaonline.com/guilds/index.php?guild_id=34437][img]http://i36.photobucket.com/albums/e11/animelover4400/Banner.jpg[/img][/url]

[url=http://www.gaiaonline.com/guilds/index.php?guild_id=34437][img]http://img454.imageshack.us/img454/6393/jrock1ju1.gif[/img][/url]

[url=http://www.gaiaonline.com/guilds/index.php?guild_id=34437][img]http://img230.imageshack.us/img230/425/jrock2gk7.png[/img][/url]

[url=http://www.gaiaonline.com/guilds/index.php?guild_id=34437][img]http://img231.imageshack.us/img231/721/jrock3de1.jpg[/img][/url]